You can process refunds for payments made using your linked payment processor. We also allow you to record refunds for other payment collected outside of Practice Better.
To refund a payment, go to your My Practice > Billing & Payments page and click on the More Options menu (3 dots) at the bottom of the invoice. Select the Refund option. This option will only be available for invoices which have a payment history.
On the Refund page, you'll see a list of all payments made for this particular invoice. In most cases, this will just be one item, but if you're collecting payment in installments you'll see a list of them here. Click the Select button next to the payment item. If this button is disabled, it means the payment has already been fully refunded.
You'll then be prompted to specify the amount for this refund. If you're processing a refund for a cancellation, you may want to process a partial refund if your client has incurred a cancellation penalty.
Enter the refund amount and specify an optional note. Hit Submit to confirm and process the refund.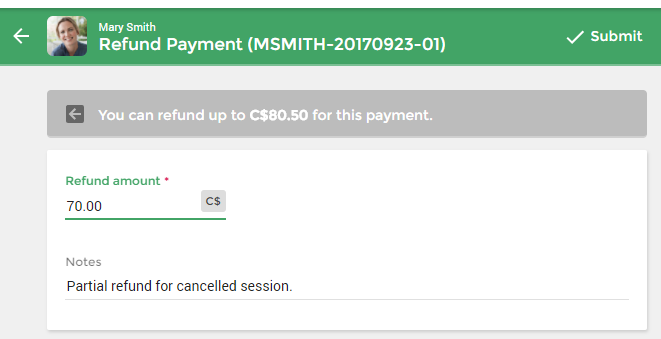 Depending on your payment processor, refunds may take up to 10 days to appear on your client's statement.
Please Note: When refunding a payment that was made externally you will still need to refund the client using the original payment method. With external payments you are recording what happened externally, refunding an external Payment in Practice Better will not automatically refund the original source.
If you're looking to refund Interac Debit transactions made on the Practice Better Payments Terminal Reader, click here.