Group sessions will first need to be set up in My Services and second in your My Availability.
Step 1:
Creating a Group Service.
In My Services you'll first have to create a Group Service. To make this clear to your clients, We recommend putting "Group" right in the service title to ensure that no one else is booking that service.
You'll set up your group service exactly as you would set up any other service. You'll now notice there's a new Booking Option called "Group Session?"
Check the box next to Allow multiple clients to book this service during the same time slot.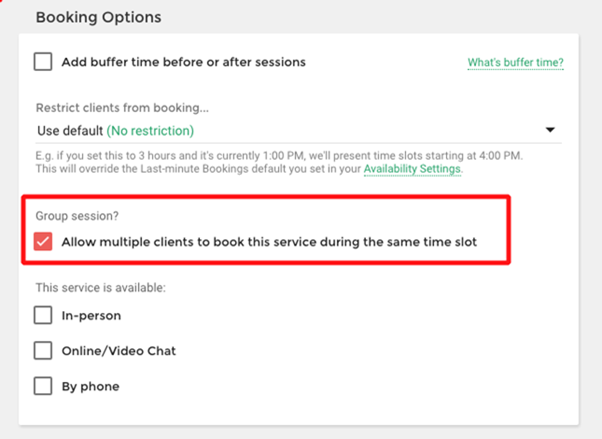 Step 2:
Setting up your availability
Next, you'll need to set up a time slot exclusively for your Group Session. Head over to My Schedule > My Availability. Click the Fast Action Button or drag a time slot on the calendar to create a new availability slot.
When you are prompted, check the option Limit which services are offered during this time and then select your Group Session from the list of services: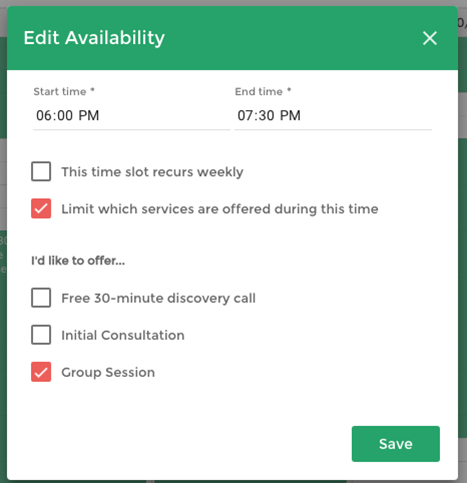 Lastly, you'll need to go into all existing Availability Blocks and limit the services that are offered during those times. If you previously allowed all services to be booked during a given time, you'll now need to select all services except your Group Session. This will ensure you are not double-booked other than during the designated time slot you created at the beginning of this step.
Reviewing and Confirming Group Sessions
Reviewing and confirming session requests for Group Sessions will be exactly the same as regular requests. You may receive a booking conflict pop-up just as precaution letting you know other events are currently scheduled for the same slot. Click Book anyway to confirm your group session request.