Setting up payment plans for your services and packages is one way to collect installment payments from your clients. You can also set up payment plans from scratch if you need to charge monthly subscription fees or collect a balance from a previous sale. Our Payment Plan feature is available on the Pro, Plus, and Team plan.
[Client File] > Billing & Payments > Payment Plans > Create plan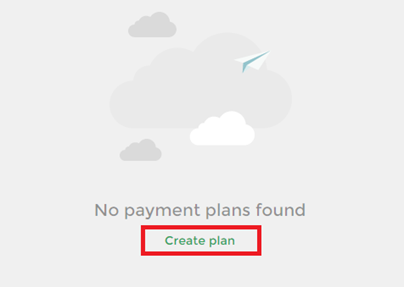 You'll be directed to a page to create your new Payment Plan automation. Here, you can set up the plan details, payment method, and installment schedule.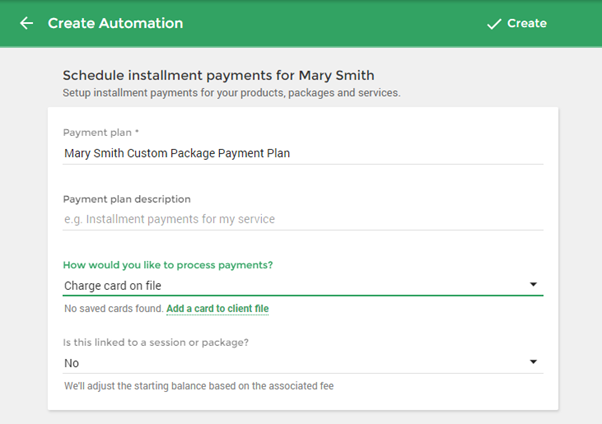 How would you like to process payments?
You have a few options to process payments for a payment plan. Choose Send invoices to client for payment if you do not have a credit card on file or if you'd like your client to pay at their convenience. An invoice will be created and automatically sent to your client at the installment date.
The Charge card on file and Charge card if available methods will attempt to process the payment using the credit card stored on file for your client. If no card is currently available, you'll see the option to Add a card below this list of options.

Installment Payments
Before setting your fees and payment schedule, you'll need to decide what type of plan you're creating.

Collect installments for an existing balance includes applicable taxes in the total balance due and splits that balance into installments. Installments will not be taxed as the tax (if applicable) is assumed to be included in the Starting Balance.
Collect ongoing installments is used for ongoing recurring payments such as monthly subscriptions. In this case taxes (if applicable) will be applied to each individual payment. The monthly installments can be scheduled indefinitely with this option if there's no end date for the client's membership subscription decided yet.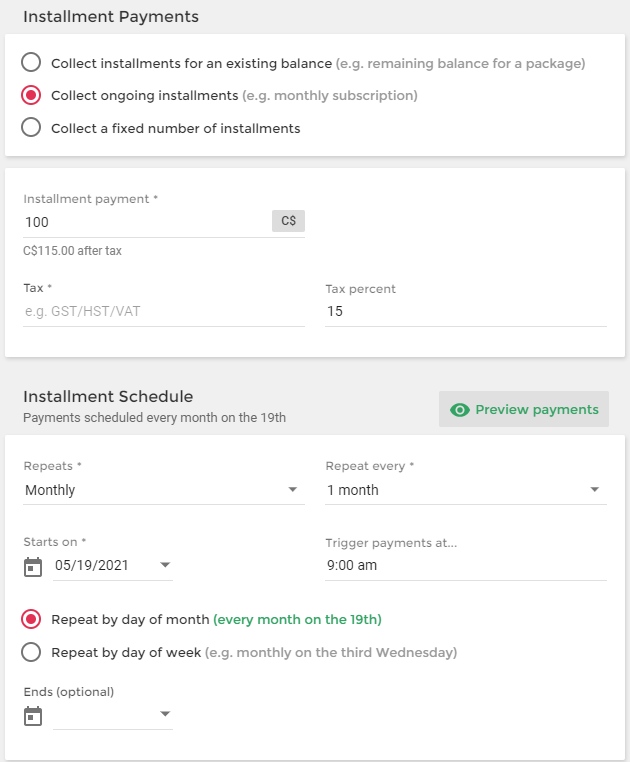 Collect fixed-amount installments is used for a fixed number of recurring payments. In this case, as well, taxes (if applicable) will be applied to each individual payment. This installment option can be used for a fixed number of monthly client subscriptions, e.g. 6-month subscription or 12-month subscription.
Always click Preview payments before finalizing Payment plan to see a breakdown of when your installment payments will be triggered and the fees to be collected at these intervals. Once you're happy with the payment plan, click the Create button in the top right corner of the page to confirm and schedule your payments.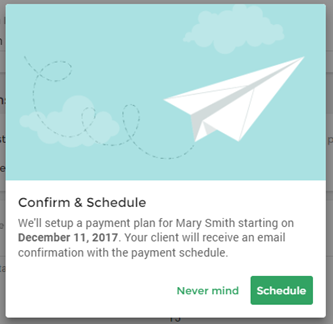 Once the plan is created, you'll be directed to the payment plan details page, where you'll be able to view all installment payments and their associated invoices. You'll also be able to process upcoming payments here.
Review your client's payment plans by going to My Clients > [Client Name] > Invoices & Payments > Payment Plans > View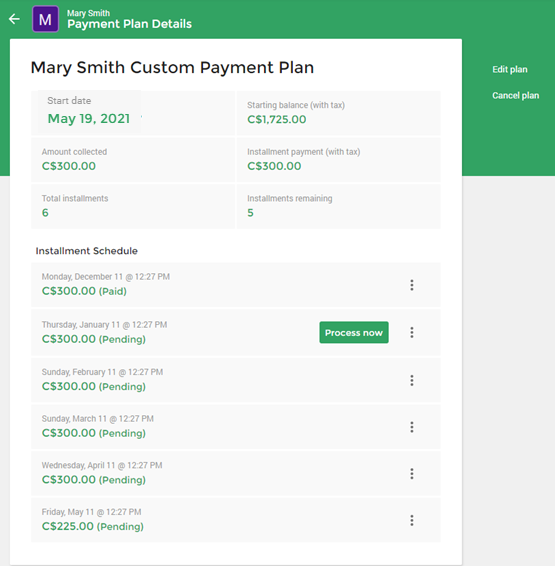 Process Payment
On the payment plan details page, you'll have options to process upcoming payments before the scheduled payment date. If your payment plan type is set to charge a credit card on file, you can process an upcoming payment at any time. Find the next scheduled installment payment and click Process Now.
Record a payment
If you'd like to record a payment for the upcoming payment installment, click on the More options button (3 dots) beside the payment and choose Record a payment. Enter details, Add payment. This is a good option if, for example, you've collected a cash payment in person.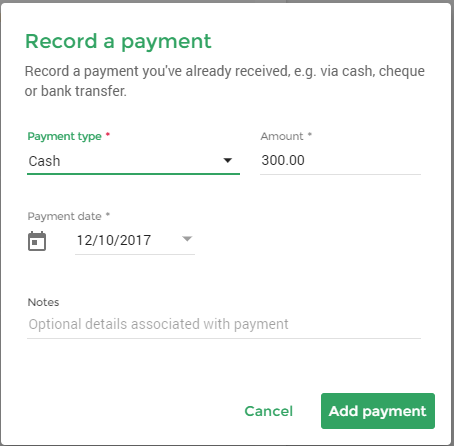 Skip Installment
Skipping an installment payment effectively ignores this payment and will not reschedule it. Click on the More options button (3 dots)> Skip installment.