Under My Practice > My Services, you can add services that clients will be able to choose from when requesting a session with you. Click on the Red Fast Action Button in the bottom right corner of your screen to add a service.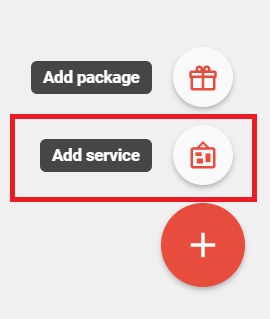 As services are added they will be listed here. You can edit and delete them anytime you'd like.
Service Information
Name your service and color code it for easy visual reference when looking at your Practice Better Calendar. Use the Description field to give your clients a brief rundown of what to expect during their consultation.
Adding Terms & Conditions 
Require clients to accept your Terms & Conditions before completing their booking. These Terms can be created in My Practice > Disclaimers and added when you set up your services. 
Fee & Payment Options
Require clients to pre-pay their sessions, suggest they pre-pay or simply show your service fees. This setting can be the same or different in the client portal and on your public booking page. Learn more
Service formats
You can set up your service to be In Person, Online/Video Chat, By Phone or a combination of the three. When your client requests this service, they'll be able to specify the format they'd like to book. These service methods can be further restricted when setting up your availability.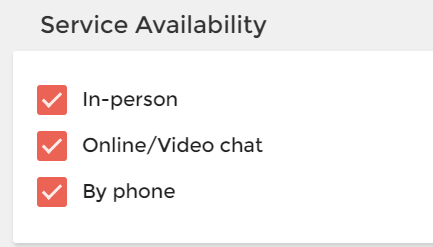 Buffer time
Buffer time is useful if you need to take into account prep-time and travel between sessions. On days that you set your availability, we'll ensure your clients' bookings always account for buffer time between sessions.
You can specify buffer time before and after sessions based on this service.

Restrict how late clients can book services
To help reduce last-minute bookings, you can restrict how late a client can book this service. Requiring clients to book no less than 1 day in advance essentially gives you a 24-hour notice of new appointments.