This article covers the following calendar-related topics:
Changing the Calendar View
The calendar allows you to view your events by month, by day and by week. We also provide a My Bookings page to view a list of upcoming and recent sessions booked in Practice Better. Adjust your calendar view by selecting an option from the tab bar at the top of the screen:

Navigating through days and months
In desktop mode, you can also use the mini-calendar to the left to quickly cycle between months in the year or click on a specific date to jump to the day in your primary calendar to the right: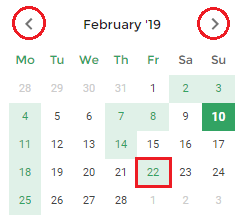 Days with events will be highlighted in green. The current day will be in a darker shade of green as highlighted above.
Changing the Time Zone
We display events in your calendar using the time zone set up in your profile. You can adjust this at any time by selecting a new time zone from the "View calendar in" field in the left navigation pane: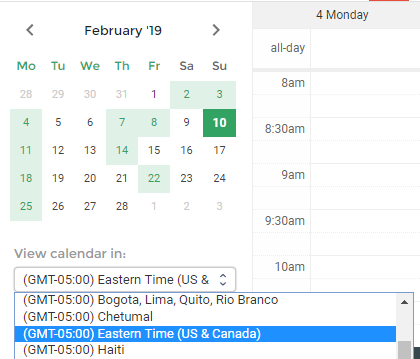 A popup will appear with the option to update your profile time zone. Click Update to change this setting. We'll use this time zone when you create new sessions. Select No thanks to temporarily change the time zone of the calendar without updating your settings.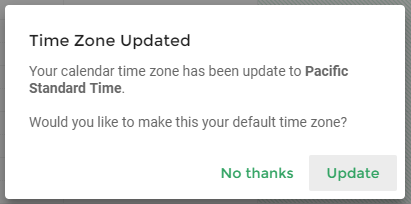 Filtering Events
Your Practice Better calendar allows you to view past and upcoming events including:
Sessions
Booking Requests
Personal Events
Pending Tasks
Programs
Client Protocols
Birthdays
You can filter the events displayed on your calendar from the Display options section in the left navigation pane. These settings are specific to your current browser.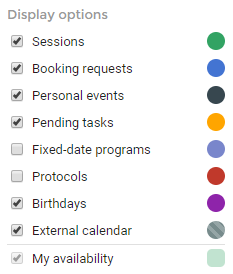 On a mobile device, you can adjust these filters by selecting Edit display options from the 3 dots: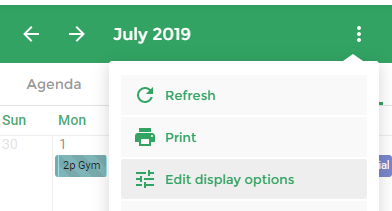 Previewing Events
In the Web Portal, click on any event in the calendar to open a popup with additional details.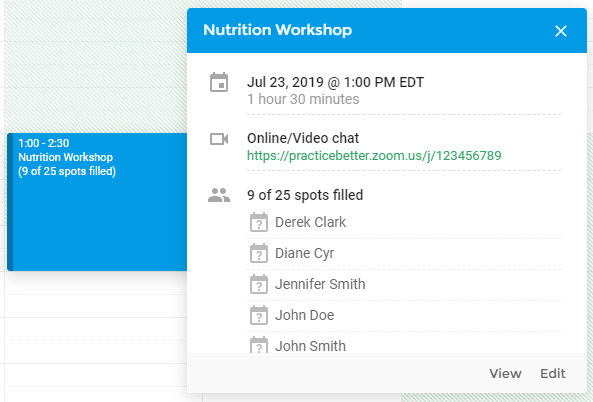 For sessions, this popup will include client information and associated notes, forms, invoices and package information.
Booking Sessions from Your Calendar
By default, you can tap on any spot in the calendar to set up a new appointment. Alternatively, you can select the Book a session option from the Fast Action Button in the bottom-right corner: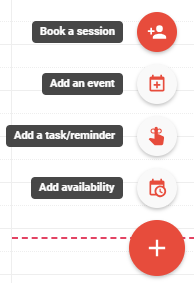 A popup will appear asking you to select a client, after which you'll be able to add details for your upcoming appointment: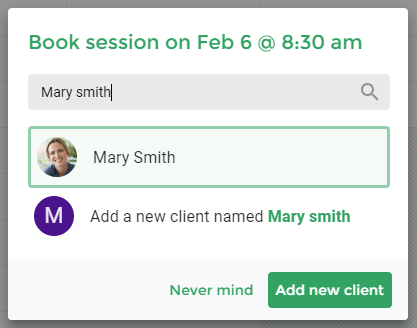 You can quickly identify confirmed vs unconfirmed bookings by observing the bar to the left of the event. A light/white bar indicates the session is unconfirmed, whereas a darker shade indicates your client has confirmed the session: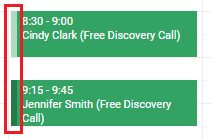 Rescheduling Sessions and Reminders
Reschedule sessions and reminders by pressing and holding an event on the calendar. Next, move the event to a new time slot. You'll see a popup asking you to confirm the updated time.