View your past and upcoming sessions on this calendar. You'll also be able to create new sessions and reminders by clicking on the Fast Action Button in the bottom right corner.

You can view your calendar as a daily agenda, a weekly agenda or month-by-month.
Filtering Events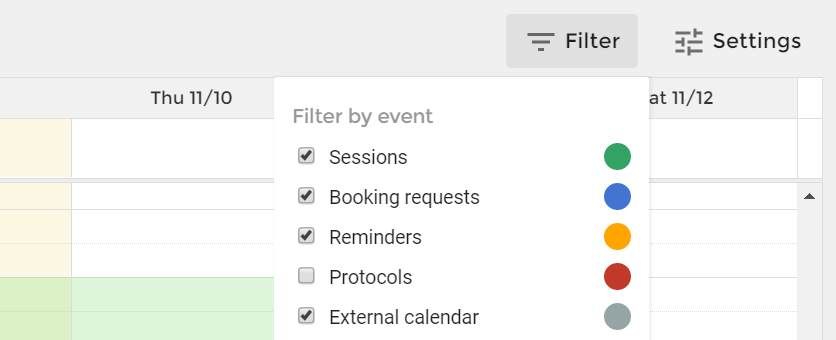 Practice Better allows you to filter events displayed in your calendar so you can zero-in on what's currently important to you. You can filter events by client and also by the following types of events:
Sessions
Booking Requests
Tasks & Reminders
Published Protocols
Events from your external calendars (Google Calendar)
Google Calendar Integration
Link your existing Google calendars to view a complete outlook of your upcoming schedule within Practice Better. Sync your sessions and reminders to Google Calendar.
Rescheduling
Reschedule sessions and reminders by pressing and holding an event on the calendar. Next, move the event to a new time slot. You'll see a popup asking you to confirm the updated time.

For sessions, you can also adjust the duration by dragging downwards from the bottom of the event bubble. You'll also see a prompt asking you to confirm your changes.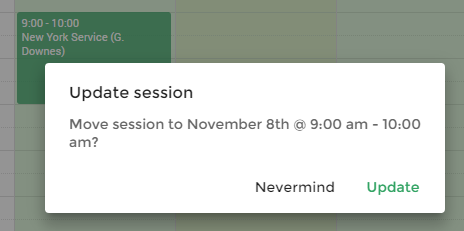 Viewing your calendar in another time zone
There may be times when you need to view your calendar in another time zone (e.g. when you're out of the country). Head over to your calendar and choose a new time zone from the left navigation menu:

This setting only affects the current calendar and does not change any of your default time zone settings.