This article provides instructions on how to set up Instant Alerts and notification preferences for the communication you receive from Practice Better.
Instant Alerts
Instant Alerts allow you to receive notifications of events from Practice Better even when you're not actively using the Portal. Alerts are supported in our mobile app (iOS, Android), on Windows (Chrome, Firefox), and Mac (Chrome).
When events happen, you'll receive notification popups just like you do today for other services such as Facebook and WhatsApp. Each notification includes a button to complete a relevant action: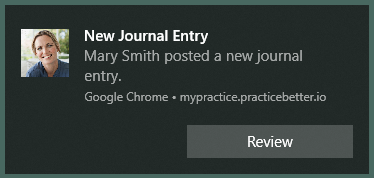 Enabling Instant Alerts
You can enable Instant Alerts by going to your Settings > Notification Preferences page. Click Enable to enable Instant Alerts on your device:
Complete this process on each device that you'd like to receive Instant Alerts on. You will only have to do this one time per device.
Disabling Instant Alerts
Instant Alerts can be disabled from the Notification Preferences page at any time. You can disable alerts for all devices at once by clicking the More Options button (3 dots) then select Disable all.
Managing Snooze Settings
Set up Snooze Periods to disable Instant Alerts during set times (e.g. on the weekends, during or after business hours). From your Notification Preferences page, click the Snooze icon as illustrated below:
Choose the weekday and the time range for your snooze period. For example, if you want to disable alerts on Sundays from 9:00 AM to 10:00 PM, select Sunday from the Weekday field:
You can also select multiple days for a snooze period (e.g. select Saturday and Sunday from the Weekday field to disable notifications during the weekend).
You can create an overnight snooze period (e.g. from 6 PM to 7 AM the next morning) by entering 6 PM and 7 AM in the From and To fields respectively.
Add additional snooze periods by clicking Add period in the bottom-left corner.
Customizing what notifications you receive
When you create a Practice Better account you are automatically subscribed to all notifications including session requests, booking confirmations, and new chat messages.
We allow you to control what notifications you receive and how they're delivered. Under the "Send me notifications..." section you can toggle notifications on/off for email and Instant Alerts (grey means the notification method is disabled).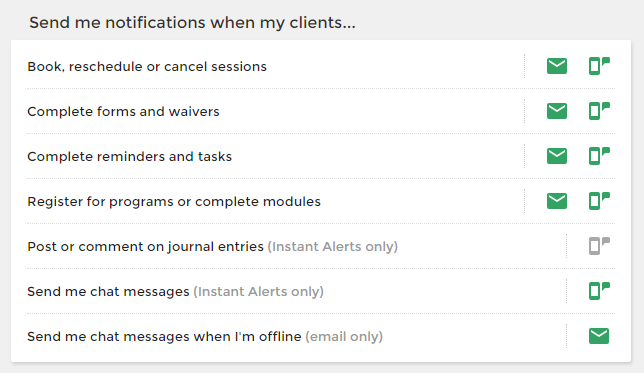 Group Chat Notifications
You can also decide what notifications you receive if you are part of one or more group chats in Practice Better.
As a practitioner/coach, you can choose to receive notifications for all messages or only messages where you're explicitly mentioned (e.g "@Wendy Smith") or replies to your posts:
Clients can choose to receive notifications of mentions, replies, and posts made by their practitioner/coach.
Privacy Settings (Practitioners Only)
By default, we do not include secure messages and completed task notes in notification emails. You can enable these details by enabling the following checkboxes at the bottom of the Notification Preferences tab: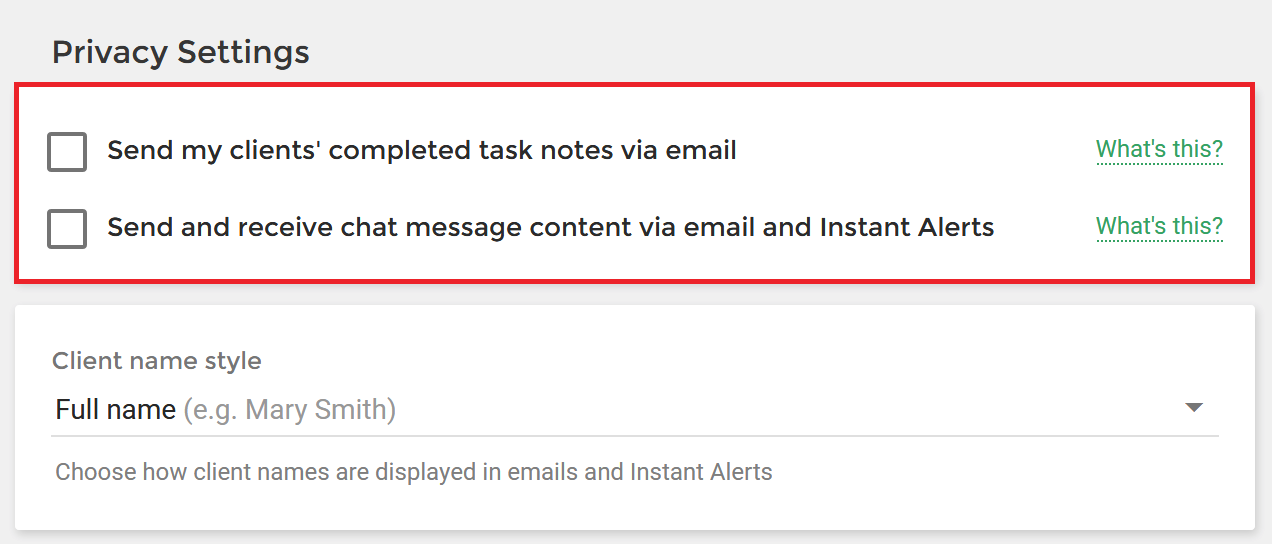 You can also customize how client names are displayed in emails and Instant Alerts but adjusting the Client name style setting. For example, you can choose to display the first name and last name initial (Mary S.) or first and last initials (M. S.) for complete anonymity.
Announcements, Product Update & Offers (Practitioners Only)
We periodically send updates about new functionality available on the Practice Better platform. We may also send you offers from our partners for products and services which can help grow your business. You can opt-out of these notifications at any time.
Note: you will still receive emails from Practice Better regarding important changes to your account such as password updates, subscription changes, client and team member registrations.