Instant Alerts
Instant Alerts allow you to receive notifications of events from Practice Better even when you're not actively using the Portal. Alerts are supported on the following browsers/devices:
Windows PC

Google Chrome
Mozilla Firefox

Mac

Apple Safari
Google Chrome
Mozilla Firefox

iPhone/iPad
Android
When events happen, you'll receive notification popups just like you do today for other services such as Facebook and WhatsApp. Each notification includes a button to complete a relevant action.

You will see the following section on your Notification Preferences screen if Instant Alerts are available for your device:

Click on the Enable button to enable Instant Alerts on your device. Complete this process on each device that you'd like to receive Instant Alerts on. You will only have to do this one time per device.
Disabling Instant Alerts on Safari
Instant Alerts can be disabled from the Notification Preferences page at any time. You can disable alerts for all devices at once by clicking the More Options button (3 dots) then select Disable all. 
To disable Instant Alerts on Apple Safari, please follow these instructions.
Customizing what notifications you receive
When you create a Practice Better account you are automatically subscribed to notifications including session requests, booking confirmations, and journal updates from your clients.
We allow you to control what notifications you receive and how they're delivered. Under the "Send me notifications..." section you can toggle notifications on/off for email and Instant Alerts (grey means the notification method is disabled).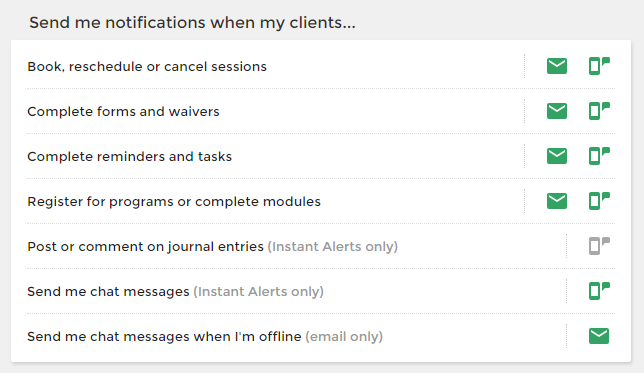 Announcements, Product Update & Offers (Practitioners Only)
We periodically send updates about new functionality available on the Practice Better platform. We may also send you offers from our partners for products and services which can help grow your business. You can opt out of these notifications at any time.
Note: you will still receive emails from Practice Better regarding important changes to your account such as password updates, subscription changes, client and team member registrations.