Custom Bookings Pages allow you to customize which services/packages are displayed and in which order.  You can do this by going to Settings > Website Links & Widgets > Public Bookings Pages. Click the Add page button to create a new Bookings Page:

Name your Bookings Page and decide if you want it to be your default Bookings Page (this will be displayed for clients in the Client Portal and select which services you want to include in this Bookings Page.
Reordering services, packages, and programs
Once you've selected the services, packages, and programs you want to include, you can drag and drop them to rearrange their order. Use the drag handle to the left of each item to change the order in the list.
Restricting locations displayed on your custom page
By default we allow your clients to request in-person sessions from all client-facing locations you've set up in your Company Profile.
You can restrict which locations are presented to your clients on this page by following the instructions in this help article:
https://help.practicebetter.io/hc/en-us/articles/360000577611-Limit-locations-displayed-on-your-Bookings-Page
Click Save to save your new custom Bookings Page.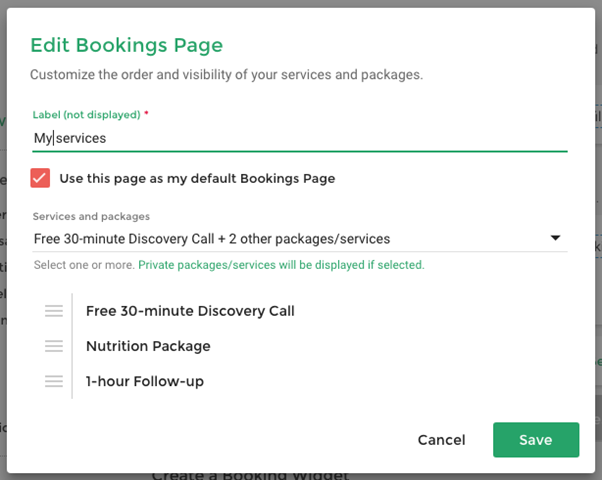 Using your new Bookings Page
Click the Get link button to share this booking page with clients or link to it from your website.

Alternatively, you can create a custom Booking Widget modeled after the custom Bookings Page you've created. Just select the Bookings Page that you'd like to model your widget after under Services and packages to display and embed the HTML code onto your website.