Our widget code includes custom CSS styles and JavaScript which will require the use of a WordPress plugin. Follow these instructions to embed the Practice Better Booking Widget on one of your WordPress pages.
Add a new plugin
Go to Plugins > Add New from your WordPress side navigation menu

Install the Per page add to head Plugin
Search for "per page add to head"
Click Install Now next to the following search result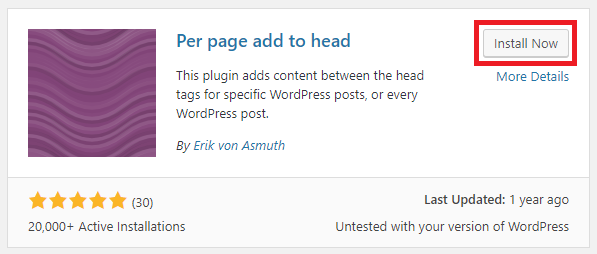 Activate the plugin by clicking Activate once the plugin is installed: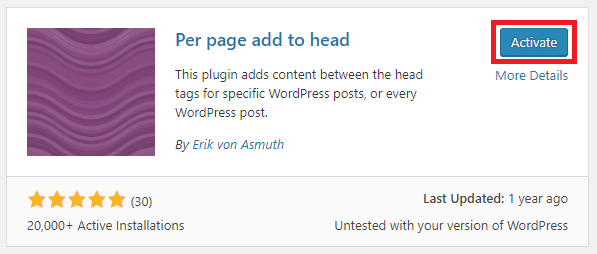 You can also activate the plugin by going to your main Plugins page and clicking Activate next to the plugin in the list:

Add your widget embed code to your page
Your widget embed code will have the following structure when generated in Practice Better:

To import this code into a WordPress page, you'll need to copy the <style>…</style> and <script>…</script> tags into the <head> section of your page:
1. Copy the highlight sections of your widget code as highlighted below:

2. Paste these snippets into the Add to head section of at the bottom of your WordPress page editor:


3. Copy the remaining contents of your widget code into the Text section of your page:


The remaining contents should be a starting and ending <div> tag. You can position this <div> tag anywhere on the page you'd like your snippet to appear.