You can easily relaunch and re-run your programs by simply duplicating an existing program. In this article, you'll learn how to duplicate programs and individual modules, and publish multiple draft modules at once.
Duplicating Programs
You can duplicate a Fixed-date, Evergreen, or Self-paced program to create a new program of the same or different format (e.g. a Fixed-date program can be duplicated as an Evergreen program and vice versa).
1) Go to My Practice > My Programs and find the program you'd like to duplicate from your list of Programs
2) Click the More options menu(3 dots) and select Duplicate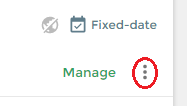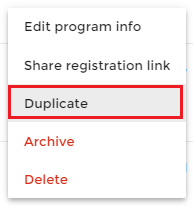 3) Name your new program, decide if you'd like to duplicate the original program as a Fixed-Date, Evergreen or Self-Paced program, and set program duration if required.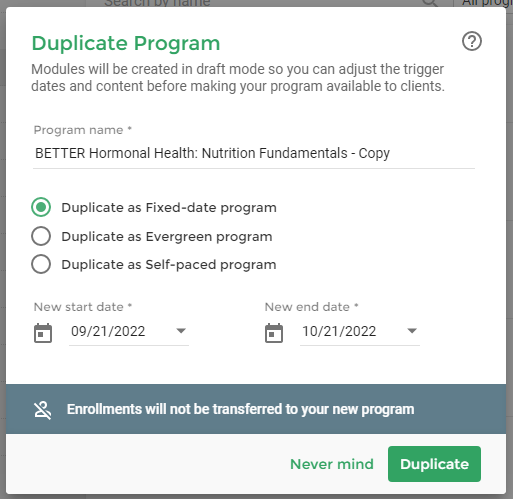 All program content, tasks, and worksheets will be duplicated and available to reuse, edit or remove in your new program.
Duplicating Modules
You can duplicate a specific module within a program by following these steps:
1) Go to My Practice > My Programs
2) Click Manage next to the program
3) Click the More Options button (3 dots) next to the module you'd like to copy

4) Select Duplicate from the options provided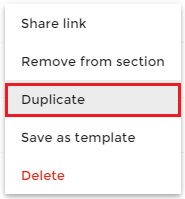 Mass Publish Modules
When you duplicate a program, all modules will be created in draft mode which means clients will not be able to see them until they are published. You can quickly publish multiple/all modules at once by following these steps:
1) Go to My Practice > My Programs and click Manage next to the program
3) In the Modules section, click the Draft filter at the top of your screen:

4) Click Select multiple in the top-right corner
5) Select the modules you'd like to publish and then click Publish in the top-right corner: