Practice Better offers the option to purchase a HIPAA-complaint Zoom account as an add-on to your existing subscription.
With a HIPAA-compliant Zoom account, your meetings are encrypted end-to-end. Cloud recording will be disabled, however, you still have the option to enable local recording for your meetings.
This version of Zoom also meets the requirements for PIPEDA/PHIPA compliance. Learn more about this here.
Purchasing Zoom Add-on
You'll first need to purchase the Zoom add-on before you can create your HIPAA-compliant Zoom account.
1) Go to the Profile menu, then click My Subscription: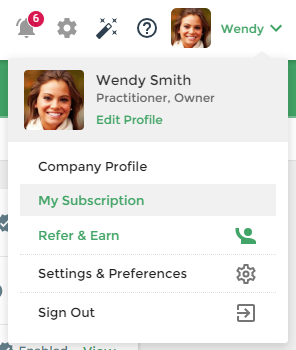 2) Click View add-ons to view a list of available add-ons for your plan:
3) Select Zoom Account (HIPAA-compliant) from the popup menu
4) Click Purchase to add the Zoom add-on to your account. The subscription fee for your Zoom account will be included in your monthly billing statement.
Setting Up your Zoom Account
Once you've purchased the add-on, you'll need to set up your Zoom account before you can start creating meetings for your Practice Better sessions.
1) Enter the name and email address you'd like to associate with your new Zoom account then click Create:
2) You will receive an email from Zoom with instructions on how to activate your Zoom account. Your account must be activated before you can start using Zoom within Practice Better.
3) Click Activate your Zoom Account to complete the setup.
Switching your Existing Zoom Account to a HIPAA-compliant Account
You can convert your existing free or paid Zoom account to a HIPAA-compliant Zoom version managed by Practice Better. If you are currently on a paid Zoom plan (e.g. Pro or Business) you will no longer be billed directly from Zoom once you switch your account.
Cloud recording is not supported in a HIPAA-compliant account. You will also lose access to existing cloud recordings if you choose to migrate your account. You will still be able to create local recordings for new Zoom meetings.
1) Enter the email address associated with your existing Zoom account then click Create
2) Read and confirm the information displayed in the popup then click Create
3) You will receive an email from Zoom asking you to switch ownership of your Zoom account. Click Approve the Request to continue.
Using Zoom for Telehealth in Practice Better
Learn more about using Zoom for your appointments and one-on-one and group chats here.
Cancelling your Zoom Add-on
1) You can cancel your Zoom add-on by going to My Profile > My Subscription
2) Click the 3 dots next to the Zoom Account add-on and select Remove from the options provided: