*** Please note, we will be discontinuing our HIPAA-compliant Zoom Add-on in the near future. Click here to learn more. ***
With HIPAA-compliant Zoom, your meetings are encrypted end-to-end. Cloud recording will be disabled, however, you still have the option to enable local recording for your meetings. This version of Zoom also meets the requirements for PIPEDA/PHIPA compliance. Learn more about this here. This add-on is available to Pro, Plus, and Team plan users.
Purchasing Zoom Add-on
You'll first need to purchase the Zoom add-on before you can set up your Zoom profile.
1) Go to the Profile menu, then click My Subscription: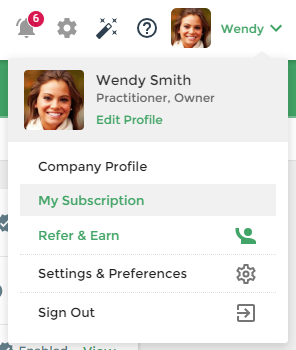 2) Click View add-ons to view a list of available add-ons for your plan:
3) Select HIPAA-compliant Zoom from the popup menu
4) Click Purchase to add the Zoom add-on to your account. The subscription fee for your Zoom add-on will be included in your monthly billing statement.
If you are on our Team Plan, additional accounts can be purchased and assigned to other team members.
Setting Up your Zoom Profile
Once you've purchased the add-on, you will be prompted to set up your Zoom profile. This step is required before you can start creating meetings for your Practice Better sessions. Click Continue in the popup to complete your account setup:
Editing your Zoom Settings
Edit your Zoom settings by going to Settings & Preferences > 3rd Party Integration. Click the settings icon in the HIPAA-compliant Zoom section:
You will be able to adjust notification preferences and in-meeting settings (e.g. waiting room, recording, and live streaming).
Using Zoom for Telehealth in Practice Better
Learn more about using Zoom for your appointments and one-on-one and group chats here.
Cancelling your Zoom Add-on
1) You can cancel your Zoom add-on by going to My Profile > My Subscription
2) Click the 3 dots next to the Zoom Account add-on and select Remove from the options provided: