We originally created the HIPAA-compliant Zoom add-on as a way to make the Zoom experience available to you at a more affordable rate. Now that Zoom is offering an affordable HIPAA-compliant plan, we will be discontinuing our HIPAA Zoom add-on feature.
The Zoom add-on will be discontinued on October 31, 2021. You will not be able to conduct meetings created using your Zoom add-on which are scheduled on or after this date.
This article will walk you through canceling your Zoom add-on, signing up for a new Zoom account as well as how to connect your new account to Practice Better and update your Zoom links.
Sign up for a HIPAA-compliant Zoom Account
To sign up for a HIPAA compliant Zoom account with a BAA, visit Zoom's Healthcare page:
https://zoom.us/healthcare
From here, you'll be able to create an account and purchase your Zoom plan with additional options and add-ons.
If you're in the United States, ensure you Accept a Business Associate Agreement (BAA):
Remove your Practice Better Zoom Add-on
Once you've purchased a Zoom account, you will need to remove the Zoom add-on from your Practice Better account. This will allow you to link your new Zoom account to the platform.
Any unused time for this add-on will be added to your upcoming invoice as a credit to your account, and be deducted from the same invoice.
Remove this add-on from your subscription by navigating to the dropdown menu next to your profile and select My Subscription.
Next, click on the More Options button, select Remove and confirm your action.
Linking your new Zoom Account to Practice Better
Once you've canceled your HIPAA Zoom add-on, you'll need to link your new Zoom account to Practice Better. This can be done from your 3rd Party Integration page.
1) Go to your Settings > 3rd Party Integration page, then navigate to the Communications section.
2) Click Link next to the Zoom integration:

3) A popup will appear prompting you to enter your Zoom email address and password. Once you've signed in, click Authorize to give Practice Better access to create and manage your Zoom meetings: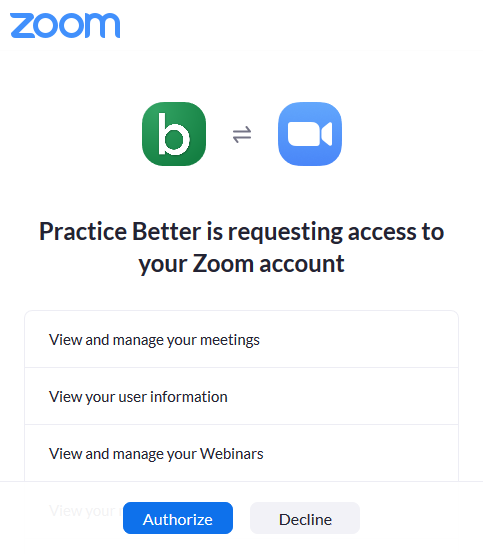 4) Success! Your Zoom account is now linked to Practice Better.
Update your Zoom Meeting Links for Upcoming Sessions
Once the add-on is removed from your account, the Zoom links for your upcoming sessions will no longer work. You will need to update the Zoom links to conduct meetings using your new Zoom account.
You can update the meeting link for an upcoming session by going to My Schedule > My Bookings.
1. Click on a session to open the Session Details page
2. Click the More Options button (3 dots) next to the Zoom link and select the Generate new Zoom link option.
When you generate a new Zoom link for your session, we'll automatically send a notification to your client with the updated Zoom meeting link and details.