On the Team Plan, the team owner has the ability to view the calendar of each team member. If a team member has the correct permissions enabled, they can also view each other's calendars.
Viewing Individual Calendars
Navigate to My Schedule > My Calendar.
Select the team member's name from the Team Member drop-down menu on the left-hand side: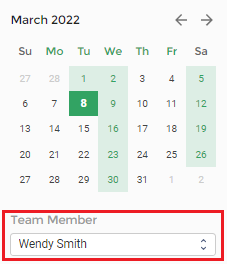 Viewing All Calendars
In My Calendar, you can select the Team 1 day or Team 3 day view.
The Team 1 day view will allow you to view everything scheduled for you and your team members for a specific date:

The Team 3 day view will allow you to view everything scheduled for you and your team members across 3 days:

Team members can be given permission to view each other's calendars. Please visit this help article for more information on how to customize your team members' permissions: