A client's invoice can be set up to allow them to pay with multiple cards.
Setting up the invoice to allow partial payments
When creating or editing an invoice for a client, navigate to the Payment Options section of the invoice and enable the option Allow client to make partial payment(s):

Once this option is enabled, the Partial Payments Option section will appear. Here, you can choose the minimum payment required as either a Percentage or Flat amount:

Visit this help article for more information on how to collect partial payments for invoices:
Collecting Partial Payments for Invoices
How clients can pay for the invoice
When your client pays for their invoice, they will be given the option to pay the minimum amount due. They can choose to pay this minimum amount using one credit card.
In the example below, the invoice is for $300 with a minimum payment set for $200.00. The client can choose to pay the minimum amount of $200 with one credit card:
Once they have submitted their payment, they can pay the remaining balance of $100.00 with another card: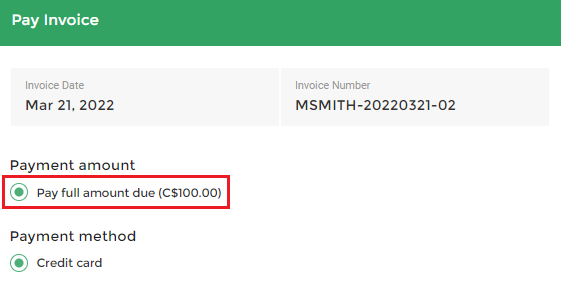 Clients can continue to pay the minimum amount due until the invoice amount due is $0. If the balance remaining on the invoice is less than the minimum payment required, your client will simply have to pay the balance remaining.