Overview
Practice Better allows you to set up group chats for clients enrolled in programs, classes, or as a general support forum for clients with similar health concerns and goals. This article will cover the following topics:
Creating a Group Chat
1) On your Messages page click the Fast Action Button in the bottom-right corner and select New group chat: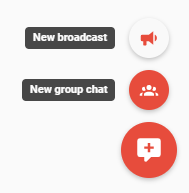 2) Enter a name for your group and an optional avatar from the options provided: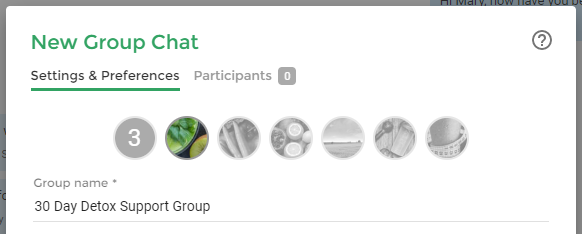 3) Select the style of your group chat:
Feed - this will display new messages at the top with replies displayed under each post. This is similar to a feed you'll see on Facebook and other social networks.
Direct chat - this will display messages similar to the traditional one-on-one chats you've used in Practice Better and other chat apps. Most recent messages will be displayed at the bottom.
You can adjust the style of your group chat at any time.
4) Select the naming convention for your clients' names. You can allow clients to see other participants' full names, first name, and initial or first name only.
5) You can also restrict clients from seeing other participants' names and profile photos.
The naming convention and profile photo settings only apply to clients. You will always see clients' full names and profile photos when viewing group chats in your portal.
6) Select the list of participants to add to your chat. You can skip this step to create an empty group to start: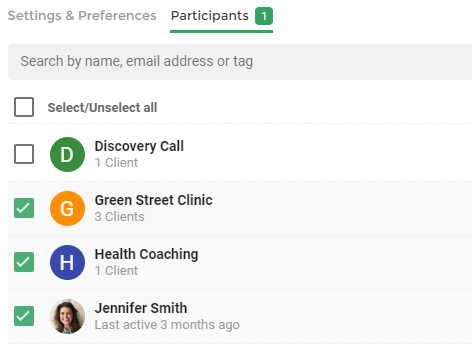 Once you've created your group, you can make future modifications (e.g. changing the name, chat style, and privacy settings) by clicking the 3 dots and selecting Edit group:
Adding & Removing Participants
Participants can be added to a group by clicking the Add participants button:

You can remove participants from your group by clicking the 3 dots and selecting Remove participants from the options provided.
When removing participants, you have the option to either keep or delete the messages/threads they started in the chat: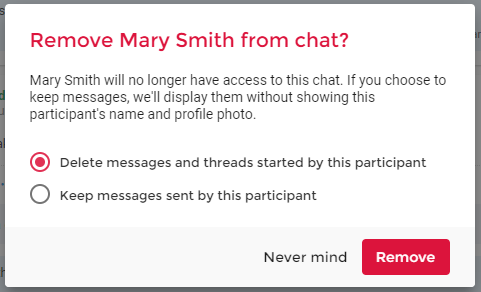 If you choose to keep messages, they will appear in the chat without an associated name and profile photo:

Participants also have the option to remove themselves from a group chat. In this case, all messages and threads started by the participant will be deleted.
Pinning Posts in a Feed
You can pin posts to the top of a feed by clicking the 3 dots next to the message, then select Pin to top of page from the options provided:

Editing Posts
For feed-style chats, you can also edit the content of previously posted entries. This may be useful if you've created an announcements/bulletin board post providing periodic updates to your clients.
1) Click the More options menu (3 dots) next to your message and select Edit message from the options provided:
2) Edit your message and attachment then click Save to update your post: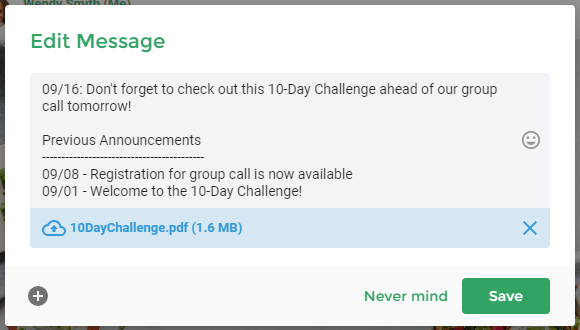 Mentions
Mentions allow you to directly notify specific participants in a group that a message needs their attention. In the message text box, type the "@" sign and then select the participant's name from the list:

Preventing New Posts
Group chats can be locked to prevent other participants from posting new messages. This may be useful, for example, if the support group/program has ended but you still want clients to be able to refer to existing messages. When a group chat is locked, you will still be able to post new messages as the owner of the chat.
1) To lock a group chat, click the More options menu (3 dots) in the chat header:
2) Select Lock group from the options provided.
Similarly, you can unlock the group to allow new messages by selecting Unlock group from the More options menu.