This article will walk you through integrating your Evexia Diagnostics account with Practice Better.
Our Evexia Diagnostics integration is available to US and Canadian users on the Starter Plan and up.
Overview
With the Evexia integration, you can submit patient-pay and clinician-pay orders, and review/share results with clients directly from your Practice Better portal.
Labs created directly in your Evexia portal will also be synced to your Practice Better account once the integration is enabled.
Signing up for an Evexia Diagnostics account
Sign up for an Evexia account by navigating to Settings & Preferences > 3rd Party Integration. Under the Labs section, click the 3 dots next to Evexia Diagnostics, then select Sign up.


**When registering your account, don't forget to use our exclusive coupon code PB250 to waive the Evexia account setup fee.**
If your clients will be paying for the labs directly, you will need to opt into EvexiaDirect in the Evexia portal.
Linking Evexia Diagnostics to Practice Better
Once you've signed up for an Evexia Diagnostics account or if you have an existing account, you can link it to Practice Better by following these steps.
1) In your Evexia portal, navigate to Tools > EMR Integration in the top navigation bar.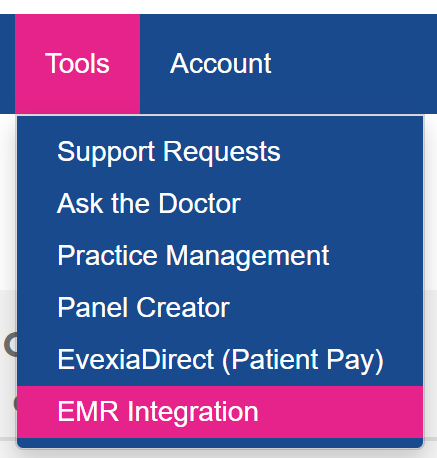 2) Select Practice Better and then click Save.
3) Review and sign the Evexia 3rd Party Disclosure Agreement. You can use the following information to complete the form:
Practice Better Address: 176 Yonge St, 6th Floor, Toronto, Ontario M5C 2L7, Canada
Practice Better Phone Number: N/A
4) After completing the agreement, your API Key will be displayed. Save this key for your records. You will also need it to complete Step 6.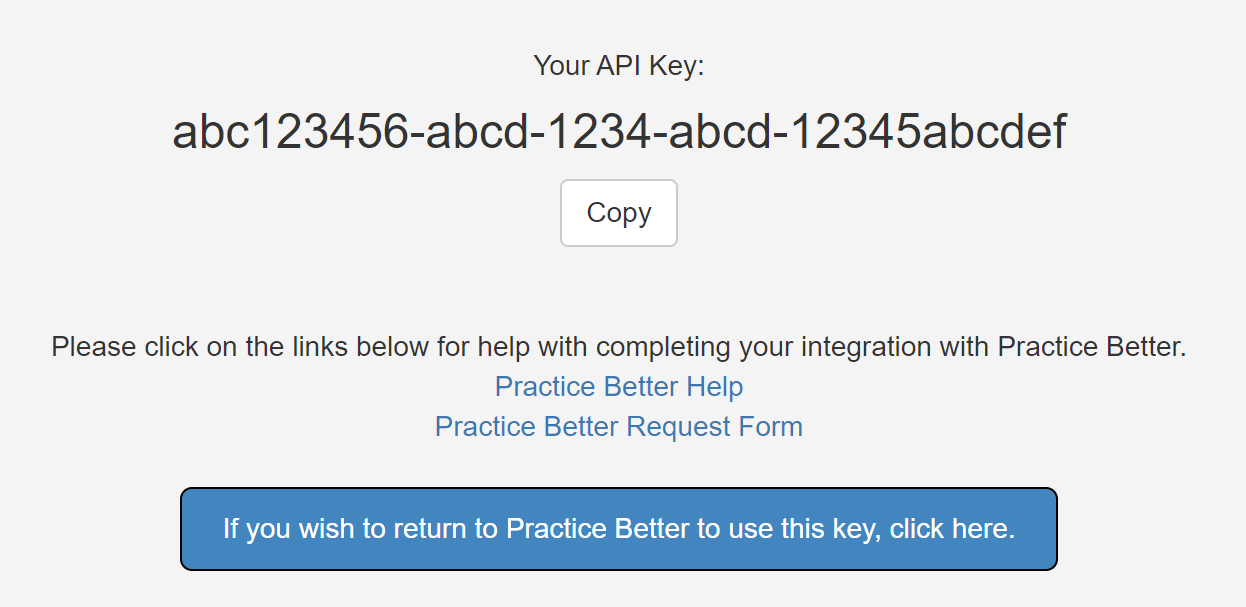 5) In your Practice Better portal, navigate to Settings & Preferences > 3rd Party Integration. Click Link next to the Evexia Diagnostics integration:

6) A popup will appear asking you to enter the email address associated with your Evexia account as well as the Evexia API Key you obtained in Step 4.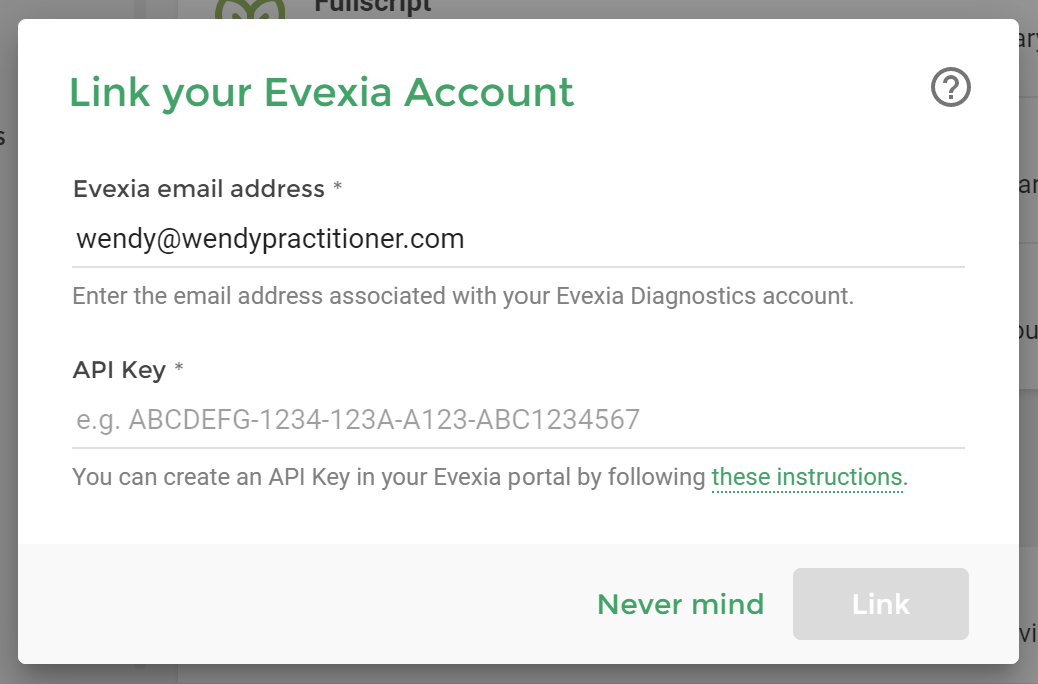 7) Enter the required information and click the Link button to complete the integration.
Setting Up Payment Preferences
You have a couple of payment options available when submitting Evexia orders through Practice Better:
Clients pay directly for their lab work

You pay for the labs and bill your clients separately
The default payment preference for new labs can be set up in your Evexia settings. On the 3rd Party Integration page, click the Settings icon next to Evexia:

Toggle on or off the Pay for client labs checkbox depending on your preference:

You can also set the payment option for individual labs by toggling the Pay for this lab myself checkbox in the new order popup:

Ordering Evexia labs from Practice Better
You can create patient-pay lab orders directly from the Practice Better portal.
Practitioner-pay labs must be ordered from your Evexia Portal. Updates to these labs will be synced to your Practice Better account as they become available.
In order to submit your lab order successfully, ensure that you have all the required information entered in the client record:
Mailing address (Ordering is currently unavailable for clients in NJ, NY & RI)
10-digit phone number
Gender (M/W)
Date of birth
1) Navigate to My Practice > Labs then click the Fast Action Button in the bottom-right corner. Select Create Evexia order from the options provided: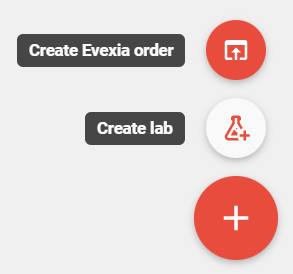 2) Select a client to associate with the new order.
3) From the Create Evexia Order window, select the tests you would like to order for your client. You can use the Search bar and View button next to each test for details, to assist you with finding the appropriate test(s) for your client. Once you've selected all the desired test(s), click on the Next button to continue.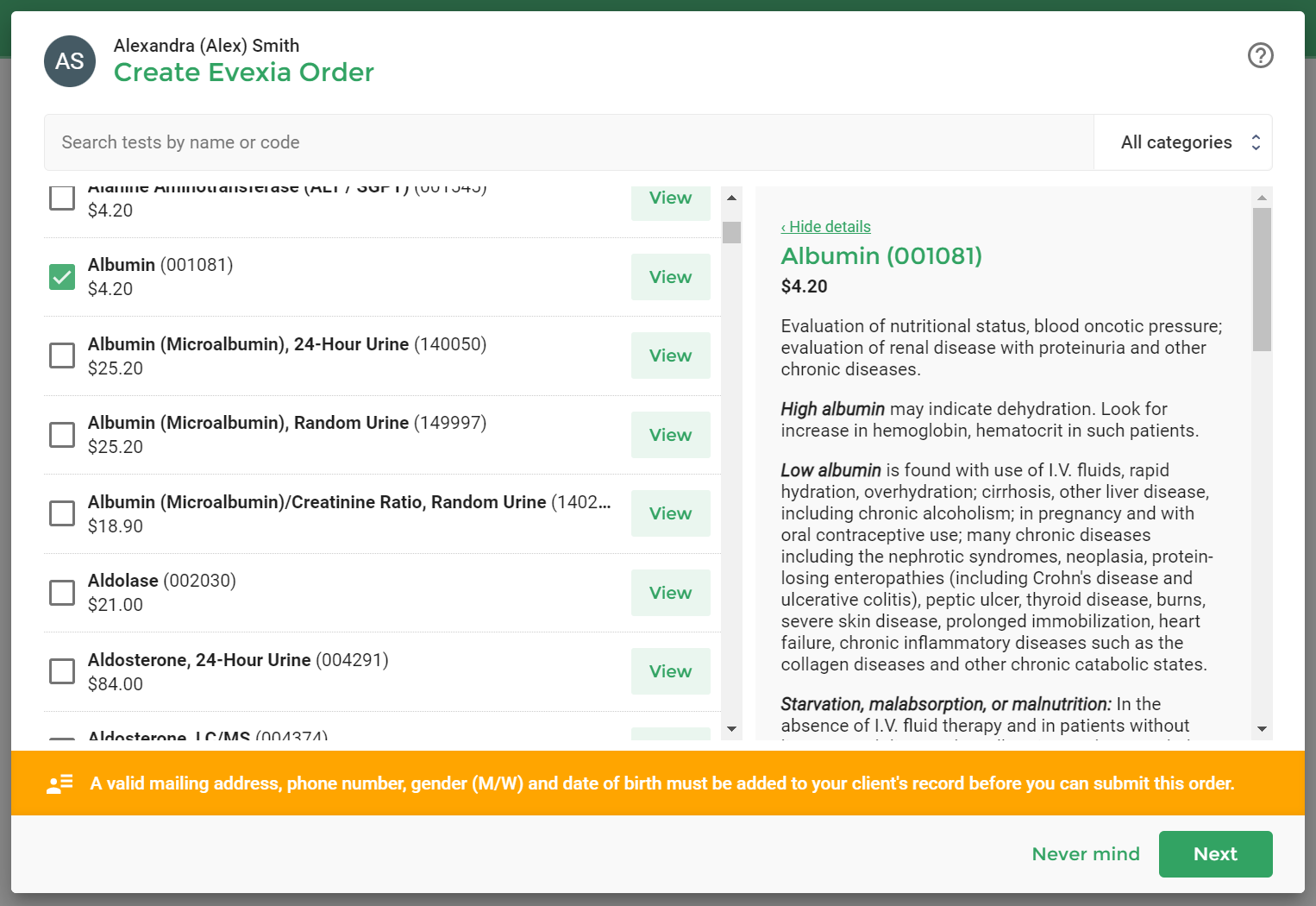 4) You have the option of editing your order name, sharing the order with your client, as well as adjusting your tests before clicking on the Submit order button.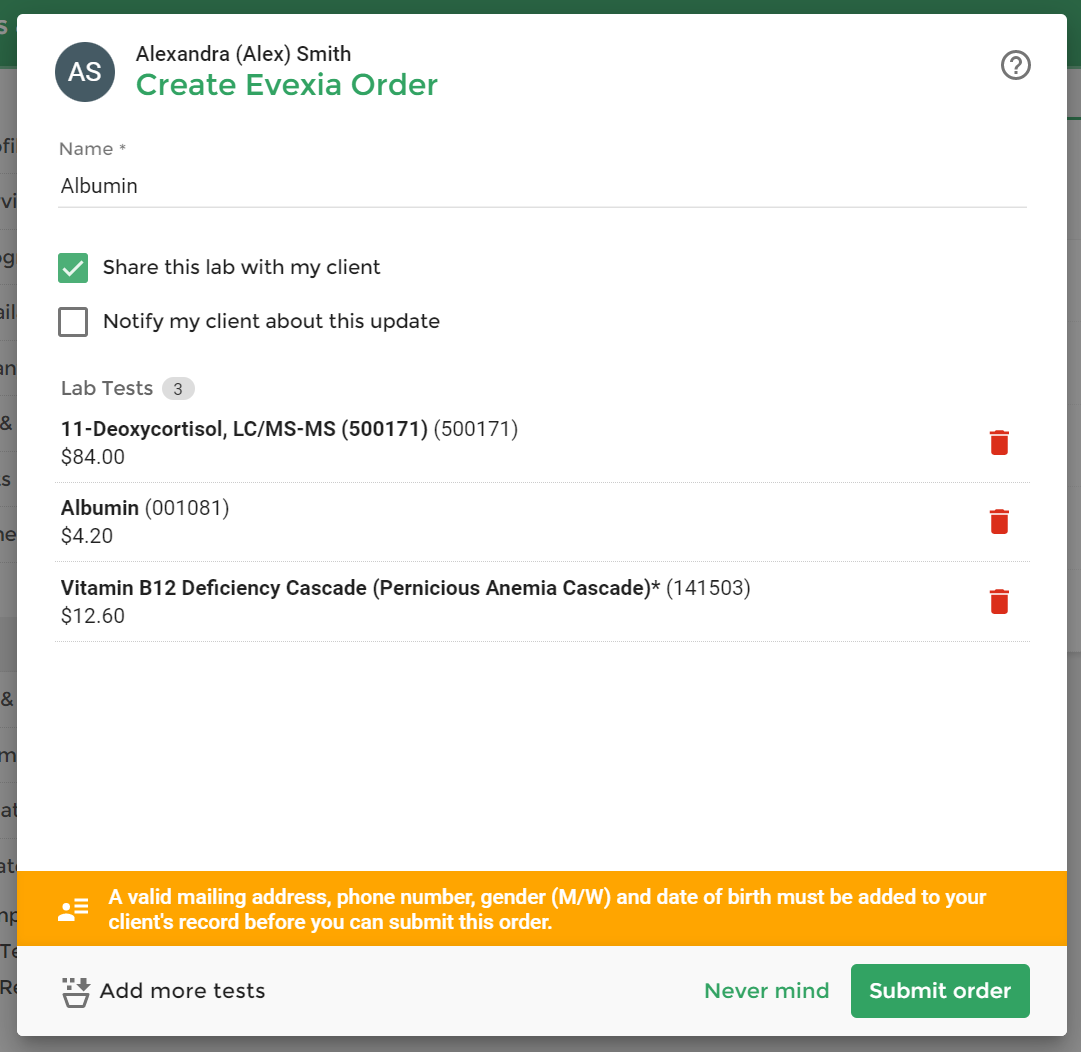 If you've disabled direct client payment, you'll be prompted to create an invoice for the lab which you can either send to your client or process on their behalf:

Viewing and Managing Evexia Diagnostic Lab Results
All lab result documents will be automatically pulled in from Evexia into Practice Better. Your lab results can be viewed and managed by navigating to My Practice > Labs.
You can click on the More Options button next to a lab to edit, share, or delete a lab quickly.

Click on a lab title or View button to open a lab order, review your lab result documents, and annotate your lab.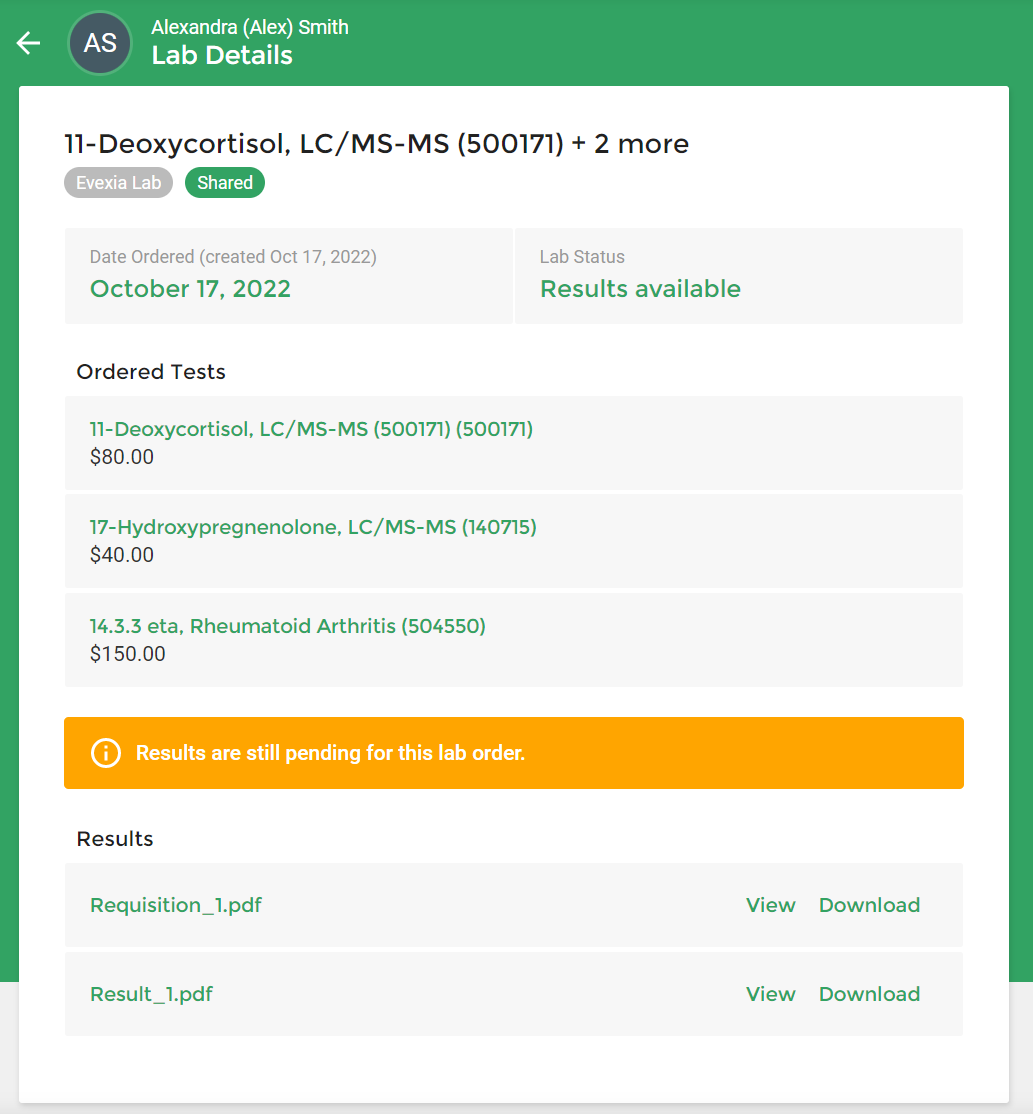 Viewing Lab Result Documents
Click on the View button next to a lab result to view your lab result document.
The document viewer menu allows you to zoom, pan, search keywords, as well as change your view options (orientation, dark mode, full screen. etc.).

You can also minimize the document viewer or download results from this window.
Annotating Labs
Click on the Annotate button to create a note associated with the lab.
By default, lab annotations are private to you, however, you can share these notes by enabling the Share note with my client setting, as well as send them a notification of this addition. You can change the sharing options at any time.
Each annotation will include an icon to indicate whether it is private or shared.

Archiving and Deleting Labs
You can archive your shared labs by opening the lab and selecting the Archive option.
Once a lab is archived, it will no longer be available to your client via the Client Portal, however, it will always be available for your reference in the practitioner portal.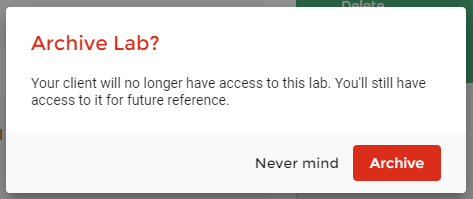 You also have the option of permanently deleting a lab from your portal. Once a lab is deleted, it will not be accessible to you or your client.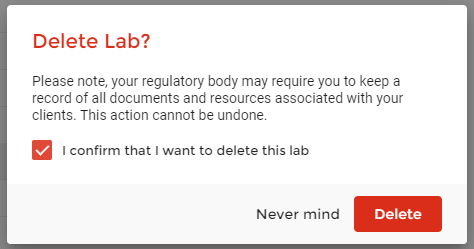 Linking and Unlinking Evexia clients to Practice Better Client Records
The following applies to labs created directly in your Evexia Diagnostics account which have been synced to Practice Better.
By default, clients that share the exact same name and email addresses in both the Evexia Diagnostics and Practice Better portals do not need to be manually linked together. For these clients, labs will be automatically associated with the matching clients in Practice Better.
If there is a variance in a client's name and email address, you will need to manually link your Evexia client to the corresponding Practice Better client record. Once you've linked them together, labs will be matched to the same Practice Better client record, moving forward.
Unlinked results will display like the following in Practice Better:


To link an Evexia patient to a Practice Better client record, simply click on the More Options button and select Link to client.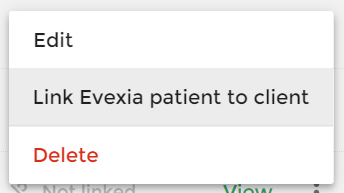 From here, select the corresponding Practice Better client to link the results to. Once a record has been linked, their name will be replaced with the name that you have on file in the portal. This action can be undone at any time.

You will then have the option of sharing this result with your client via Practice Better.
Unlinking client records from Evexia Patients
In the event that you want to unlink a client record from an Evexia patient, you can do so by clicking on the More Options button> Unlink Evexia patient.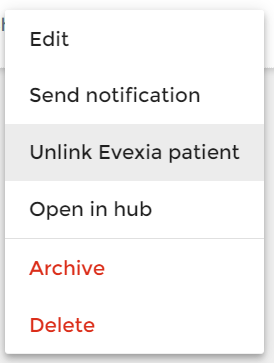 Once a client record and Evexia patient have been unlinked, all new and historical labs will no longer be associated with the client record. Unlinked records can be linked/relinked at any time.