Instructions in this article apply to Google Chrome. We recommend using the latest Google Chrome browser for video chat sessions in Practice Better.
Practice Better requires access to your camera and microphone so other participants can see and hear you in your video sessions.
If you're using Google Chrome, you'll see two popup prompts appear in the top left hand corner requesting these permissions. These popups will appear just before you start your session. Click Allow for each of these requests.
Camera Permission Popup

Microphone Permission Popup

Unblocking Camera and Microphone Permissions
You can enable permissions manually if you previously denied Practice Better access to your camera or microphone. In the top left corner of your browser, locate and tap on the lock icon at the left of your address bar: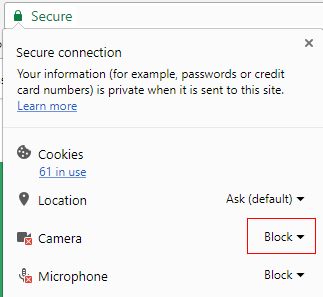 Click on Block next to the Camera item. This will open a drop down menu where you can select the appropriate permission. Choose Always allow on this site. Repeat this step for the microphone permission.

Optionally, you can follow the instructions provided by Google on how to allow permissions from the Chrome settings page.
Once you've re-enabled these permissions, relaunch your video session.