This article will cover the following topics:
You can create invoices by navigating to My Practice > Billing & Payments, then click the Fast Action Button in the bottom right corner. This will bring up a list allowing you to select the client for your new invoice.
Alternatively, you can start the invoice process from the Fast Action Button on the home screen or the Billing & Payments section in a client's file. The latter option allows you to create both an empty invoice as well as an invoice for an existing booking, package or program registration.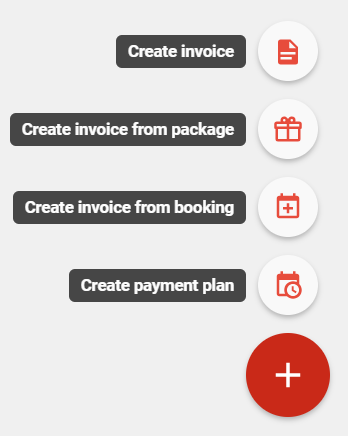 Creating a New Invoice
At the top of your invoice, you'll see three tabs:
Invoice Details allows you to add your invoice number, invoice date, and line items for your invoice.
Payment History displays all payments processed for this invoice. We'll jump into payment options later in this guide.
Write-offs allow you to track amounts you are unable to collect for an invoice, for example, if you submitted a claim to an insurance company but received less than the expected amount.
Under the Invoice Details tab, you can edit your invoice header items, including company and recipient (Billed To) information. You can also edit your invoice number, invoice date and add a brief note for your invoice (e.g. greeting, line-item summary, etc).
Adding Line Items
The line item field is where you enter the service or product you are charging your client for. Add a new line item by clicking the Fast Action Button, then selecting either "Add empty line item" or "Add line item from booking".
You can give as much or as little detail as you want here (e.g. 90-minute Initial Consultation or Nutritional Consultation, Multi-Vitamin Supplement or Supplement). Once you've named your line item and added the fee, you can also add applicable discounts and click Done.
If you have another service or product to add to the same invoice, click the Fast Action Button and select "Add empty line item" or "Add line item from booking or package" and continue until you've added all services and products for this invoice.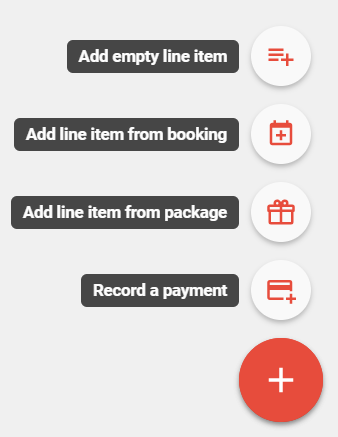 Adding a Signature
Enable the Include signature on invoice PDF option to include your signature at the bottom of the generated invoice/receipt PDF:

Adding Tax
You may edit or remove taxes on an invoice by clicking Edit or Remove beside the tax field.
Payment Options
Accept payment for this invoice using Practice Better means that you would like to process payment for this invoice using your linked payment processor. When the invoice is sent to your client, we display a "Pay Now" button which redirects your client to a page where they can enter their credit card details and submit payment.
Payment requirements
You can require clients to pay their invoice in full or to pay a minimum amount. Select the appropriate option.

Saving, Sending & Processing Payments
Click Save at the top right-hand corner of your screen to save the invoice to your records.
Sending an invoice to your client for payment
Click Send to save a copy of the invoice for your records and send a copy of the invoice to your client. Your client will receive their invoice by email with the option to pay online via your linked payment processor account.
Processing a payment on your client's behalf
1) Click Process if you'd like to process a payment on your client's behalf. Selecting Process also means that this invoice will become read-only and you won't be able to make adjustments to the line items.

2) Click Pay Now to process payment. Select a payment type, complete appropriate fields and click Submit. A receipt will automatically be emailed to your client once the payment has been confirmed.
Recording Payments
If you'd like to process a payment outside of Practice Better or record a past payment click the More Options button (3 dots) and select Record a payment.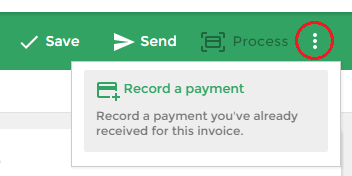 You can specify the type of payment you received, the amount paid, the date of the payment as well as any notes you may want to associate with the payment.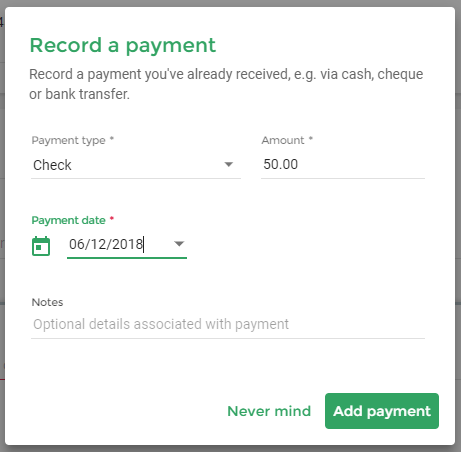 Click Add Payment once fields are completed.
If you'd like to send a receipt to your client for this transaction, click Send at the top right-hand corner of your invoice.