You can add different tax rates to individual line items on your invoice. By default, all line items will use the default tax rate that you have set up in your Invoice & Payment Settings.
To add a custom tax rate for a line item, enter the line item and amount. Then, click on the Add tax option.
In the popup box, give your custom tax rate a name and indicate what percentage the tax rate will be. Click Save when you have completed this step.
If you have added a custom tax rate in a line item, you will see a prompt once you click Save. This prompt will let you know that you have multiple tax rates enabled in the invoice. Once you have added a custom tax rate, default and/or invoice-level tax rates will be removed from any additional line items you add afterward. Tax rates will need to be adjusted individually for the next line items.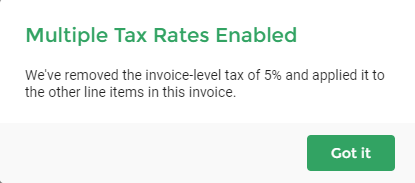 Once you have added multiple tax rates in an invoice, tax rates will be calculated and displayed at the bottom of your invoice accordingly. Once you are happy with your invoice, you can process the payment, or send it to your client for payment.

Products with an Existing Tax Rate
When you add a product that has a unique tax rate that overrides your default tax rate, you will receive a prompt. This prompt will ask if you want to apply this tax rate on the entire invoice, or if you want to apply the tax rate to the single line item. You can also choose to ignore the custom tax and use the default tax rate on the invoice instead.