We provide your clients with a walkthrough video of their Client Portal the first time they sign into their account. You have the option to change this video or disable the welcome video entirely.
Changing the Default Welcome Video
To change the default video provided to your clients, go to Settings & Preferences > Portal Preferences. Currently, we only support YouTube and Vimeo videos.
Using a YouTube Welcome Video
YouTube allows you to create videos with an Unlisted privacy setting, which will ensure your video does not appear in the main YouTube search. Learn more about changing YouTube video privacy settings.

You will need your YouTube Video ID, which you can find in the URL of your custom video:

Paste this value into the Video ID input field, then hit Save Changes.
Using a Vimeo Welcome Video
For public videos, copy the numeric Video ID displayed in the Share link popup in your Vimeo dashboard: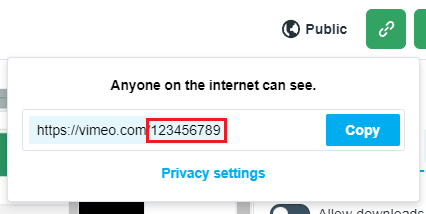 Using Unlisted Vimeo Videos
Unlisted videos contain 2 parts (e.g. https://vimeo.com/123456789/77a88b99c). The backslash (/) between the two parts should be replaced by ?h=.
For example, 123456789/77a88b99c becomes 123456789?h=77a88b99c
Use the following format when entering your Video ID into the Welcome Video section: