The recent activity stream allows you to view a timeline of important events in your client's health journey, including bookings, notes, tasks, completed forms and more. You can also use the activity stream to record custom events and interactions with your client.
The activity stream can be viewed from your client's Recent Activity page or in the Client Hub.
Filtering Events
You can filter events by category (e.g. bookings, protocols, notes) and by date when searching for specific entries, e.g. all booking-related activities in the last month: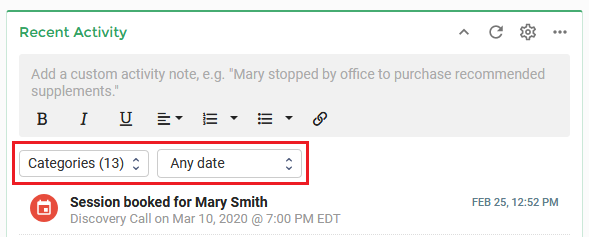 Adding Custom Activity Notes
Start typing your note in the text box at the top of the activity stream to add a custom note. You can also adjust the activity date and time.

Custom entries can be pinned to the top of the stream by clicking the pin button to the right of the entry. You can delete custom entries by selecting Delete from the More options menu (3 dots).

Tracking Email Deliveries
Automated emails are sent to your clients for many activities, including invitations to access the Client Portal, booking confirmations and newly published notes. We keep track of email deliveries to ensure your notifications are successfully sent to your clients.

Email Statuses
Your emails will be delivered in most cases, so long as you have a valid email on file for your client. You may also notice the following statuses for entries in your client's activity stream:
Email Sent - The email was dispatched to your client and we are awaiting confirmation of delivery.
Email Delivered - The email was successfully delivered to your client's email address. Your client should check their junk mail folder if the message is not available in their inbox.
Email Bounced - The email address provided does not exist (or was added to our bounced list at some point in the past). You may also want to double-check your client's email address for typos (e.g. mary@gmail.con).
Delivered (Unsubscribed) / Recipient Unsubscribed - Your client may have unsubscribed from our automated emails. Unsubscribing from an automated email will add your client to our Do-Not-Send list.
Delivered (Marked as Spam) / Marked as Spam - Your client marked one of our automated emails as spam. Marking an email as spam will add your client's email to our Do-Not-Send list.
Blacklisted - Your client's email address is in our Do-Not-Send list. This may be a fake/dummy email address (e.g. mary@example.com or mary@users.practicebetter.io).