My Documents
In My Documents, you will find all documents that you've imported into Practice Better from your computer, Dropbox and Google Drive 

Sharing Documents and Folders
You can easily share documents and folders with clients by first selecting a file and clicking on the Manage Sharing Settings icon. When folders are shared, clients will see the folder and it's files and sub-folders in their Documents section of the Client Portal.

Sharing Multiple Files
Share multiple files at once by clicking on Select multiple button. Alternatively, you can select one item, then hold down your Ctrl key and select additional items in the list.
Checkmark files you'd like to share and then click on the Manage Sharing Settings icon.


Select the clients you'd like to share your files with, then hit Update. If any two files you select have different sharing settings, these settings will be reset and overwritten once you hit Update.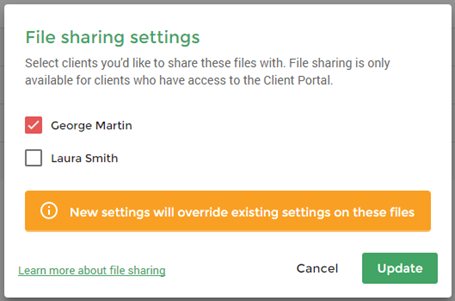 Document/Folder Details
We've included a navigation bar to the right of your documents list to provide you with additional file information and quick actions. Details are provided once an item is selected from your documents list.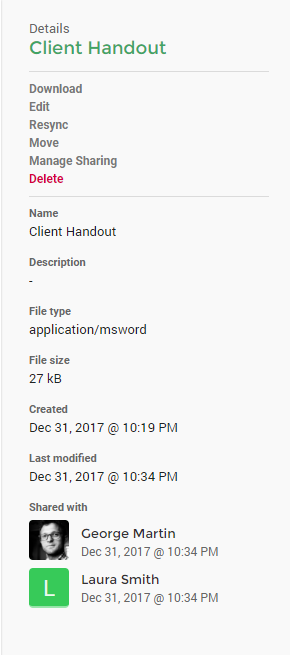 Sharing Files with Clients
Look for the Shared icon to quickly identify files and folders you've shared with your clients.

In your Document Details to the right, you'll get a more detailed view of which clients you shared this document with and when the document was first shared with the respective clients. 
Resync Dropbox and Google Drive Documents
Imagine you've updated a handout or worksheet in Google Drive and you need to securely share it with your clients. You can easily update the contents of documents imported from Dropbox and Google Drive by simply clicking the Resync icon.

Files which are eligible to be resync'd will have the following icon visible in the main documents list:

Resynced document will automatically update the file for all clients whom you have shared it with in Practice Better.
This setting applies to newly imported Dropbox and Google Drive documents. If you've imported documents from these cloud services in the past, you will have to re-import them to take advantage of this feature. 
Shared Documents
Easily choose from your list of clients to see what documents have been shared with them and by them. Double-click on a client's name to view all client sub-folders and documents.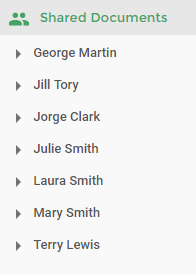 First, you'll see all of the quick-access folders which organize your shared documents.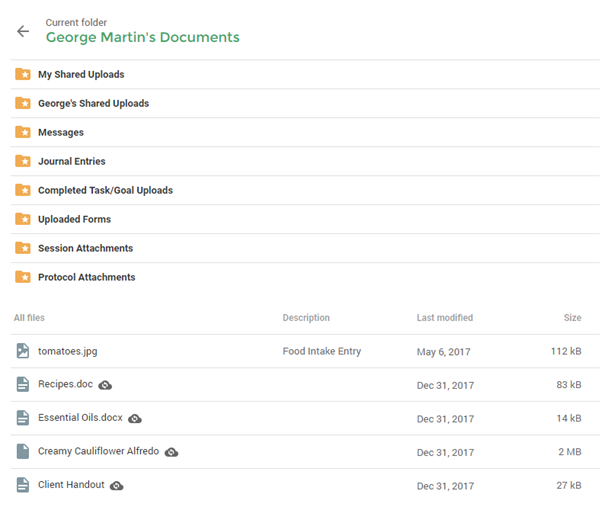 My Shared Uploads contains all files that you've shared with your client from your My Uploads section.
[Client name]'s Shared Uploads contains all files that your client uploaded to their Documents section to share with you. All files uploaded from your clients' Client Portal are automatically shared with you. You'll receive a notification every time there are new files available.
If you'd prefer to see all documents that have been shared between you and your client, scroll down to All Files locate immediately below your list of quick-access folders. We provide a short description of the origin of these files, e.g. the name of the protocol or session notes where the document was uploaded to.
Accessing shared documents from your client's file
You can always find documents shared with specific clients by going directly to My Practice > Documents, then finding the client's name in the left navigation bar.
Optionally, you can also jump directly into this section from your client's file. We've included a link to Documents in the left navigation bar to take you directly to this section.