Sending an Invitation to Join Practice Better
If you've already created a client in your account, you can send/resend a client an invitation to join Practice Better by going to My Clients, then select the (Re)send Invitation option in the More Options menu beside your client's name:



This will send an email to your client with instructions on how to set up their account: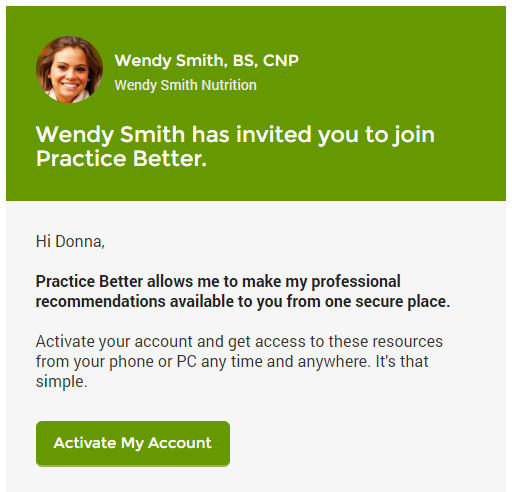 Clicking the Activate My Account button will redirect your client to a page to set up their login/password to access the Client Portal.
You may also want to ask your client to check their junk mail folder in case the invitation email was delivered there.
Copy and send an Invitation Link
Once you have sent the invitation to your client, you can also obtain the direct invitation link by clicking the Get invitation link button in the same pop-up menu next to your client's name on the My Clients page. You can then copy/paste the link and share with your client: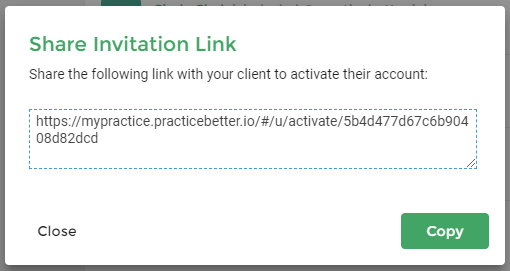 Sending Invitations to Multiple Clients
1) From your My Clients page, click Select multiple in the top-right corner.
2) Select the clients you wish to invite by checking the checkboxes beside their names:
3) Click Send/resend invitations in the top-right corner:


Invitations cannot be sent to prospective clients, deactivated clients, or clients who have already activated their accounts.
Revoking an Invitation
If you've sent an invitation in error (e.g. to the wrong client or email address), you can revoke the invite by clicking the 3 dots next to the client on your My Clients page. Select Revoke invitation from the options provided: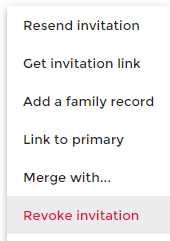 Resetting my Client's Password
If you don't see the option to resend your client's invitation, likely they have already activated their account. Once their account is activated, the invitation is no longer available.
You can send instructions to your client on how to reset their password by providing them with the following link:
https://client.practicebetter.io/#/forgotpassword