Overview
You can chat with any client who has activated their account and has access to the Client Portal. Start chats
by clicking the Chat icon in the top-right corner of your screen to open your Messages page:


Optionally, you can use the Messenger tab in the bottom-right corner to chat while browsing another pages in your portal:

Using the Messages Page
The Messages page allows you to see a list of all chats to your left as well as pinned chats, messages and shared documents: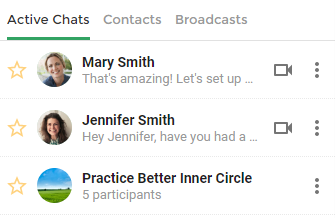 Starting a New Chat
To start a new chat, click on the Contacts tab to view your client list. After clicking on your contact's name, a new chat will appear under the Active Chats tab.
Pinning Chats
By default, chats are organized based on the last received message in (most recent first). You can optionally pin chats so they appear at the top of your Active Chats list. Pinning chats can be used to quickly access chats with specific clients, team members, and groups.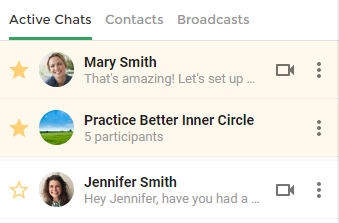 Marking Messages as Unread
Existing messages can also be marked as unread to be answered at a future date; just select Mark as unread from the More options menu (3 dots) next to a message:


You can view a consolidated list of all unread chat messages by clicking Unread Messages below the Active Chats tab: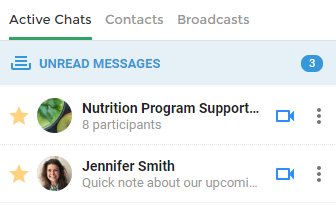 Hiding & Deleting Chats
You can delete a chat by clicking on the 3 dots next to a chat in your Active Chats tab. Select Delete from the options provided. This option will delete the chat and all sent messages.
Alternatively, you can hide a chat by selecting Hide chat from the same menu.
Adding Attachments to Messages
You can attach documents to your chat messages by clicking the (+) button to the left of the chat message textbox:

In the mobile app, you also have the option to record voice notes and capture photos.

Pinning & Deleting Messages
You can bookmark messages within a chat to quickly refer to them in the future. To pin a message, click the More options button (3 dots) at the bottom of a message, then select Pin message:

Pinned messages are displayed to the right of chat on your Messages page: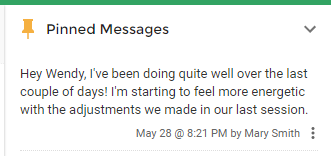 You can also delete messages which you've created by selecting Delete message from the 3 dots.
Replying to Messages
You can reply to a specific message in a conversation by clicking the Reply button:

Replies will retain the context of the original message for easy reference: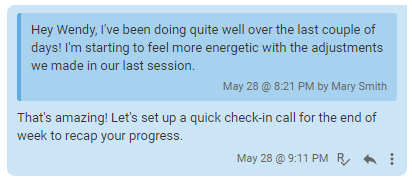 Using the Messenger Tab
When you start a chat from the Messenger tab at the bottom of your page, you will notice you have two arrows at the top of your current chat. Click the downward angled arrow to minimize your chat until you're ready to come back to it, or click the upward angled arrow to open your chat on the dedicated Messages page: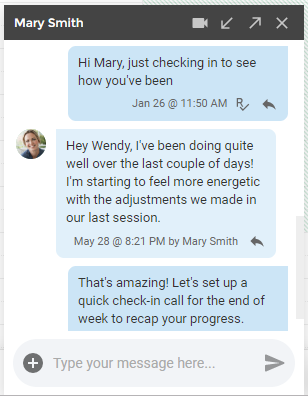 Messaging Preferences
Access your messaging options by going to Settings > Telehealth & Messaging:
In your settings, you can choose to:
Set the default behavior when clicking the Enter key (i.e. send the message or create a new line)

Limit the length of messages your clients can send (applicable to the web portal and mobile app version 1.2.0+)
Sending Message Content in Email & Alerts
We can include the content of your and your clients' chat messages in emails and alerts. E.g. the following content could appear in an email or notification from one of your clients:
Please note, email and alerts are not secure channels for communication.