You'll notice the Messenger tab at the bottom-right corner of your page. Our messenger is simple to use. Click on the tab to see a list of clients you can chat with. Select the client(s) you'd like to send a message to and start typing!

Launching Chat Windows
When you start a chat from the Messenger tab at the bottom of your page, you will notice you have two arrows at the top of your current chat. Click the downward angled arrow to minimize your chat until you're ready to come back to it, or click the upward angled arrow to open your chat in a full-page messenger.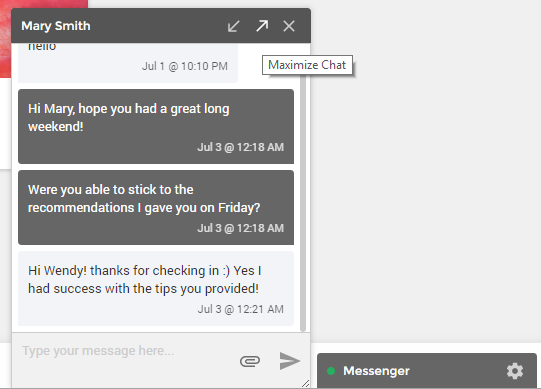 The full-page messenger allows you to see a list of all chats to your left as well as pinned messages and shared documents to the right of your chat.
Sending Attachments
Clients and practitioners can also share documents via attachments during chats. These attachments are stored in the chat sessions and will be displayed below pinned messages, to the right of your chat in the full-screen messenger.
Click the paper clip icon to the left of the Send button (paper plane) to attach a document:

Your attached document will appear below the chat message box. You can add an additional message before hitting the Send button to send the message to chat participants.

Pinning & Deleting Messages
Pinning a message allows you to bookmark messages which you can refer to easily in the future. Pinned messages are displayed to the right of chat in the full-screen messenger. To pin a message, click the More options button (3 dots), then select Pin Message:

You can also delete messages which you've created by clicking on the More options button and selecting Delete Message. 
Messaging Preferences
In your settings, you can choose to disable chat access to new clients by default as well as disable chat for existing clients. Only clients with Client Portal access are eligible to send and receive chat messages. Learn more
Sending Message Content in Email & Alerts
We can include the content of your and your clients' chat messages in emails and alerts. E.g. the following content could appear in an email or notification from one of your clients:
Please note, email and alerts are not secure channels for communication.