My Schedule > Manage Availability
You can specify availability to have greater control over when clients can request sessions. Find My Schedule in your navigation bar at the top of the page and select Manage Availability. Here you can choose your availability on a one-time or recurring basis. Either press and drag on the calendar to define a time range or select the Fast Action Button in the bottom right corner.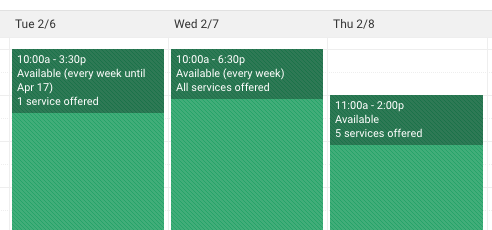 Setting specific availability for specific times.
To set up your availability go to

My Practice > My Availability.
Select a time slot on a day you're available to see clients, click the starting available time and drag your cursor. Decide if this time recurs. If so, does it recur daily, weekly or monthly and until when?




Tailor your availability to offer select services within certain time slots during the week.
For example, between 1 pm and 5 pm on Mondays + Wednesdays, you only offer initial consultations. 




Further restrict how sessions are available
For example, on Tuesdays, sessions are only available online via Telehealth.





Manage where sessions are available on a day-to-day and service-to-service basis. If you see clients from multiple locations, you can set up your availability accordingly.
For example, only see clients at location #1 on Tuesdays and clients at location #2 on Wednesdays.