Link your Google Calendar to see personal events in your Practice Better calendar and to sync upcoming sessions, reminders and personal events back to Google. We will also prevent clients from requesting sessions which conflict with events your Google Calendar.
Linking your Google Calendar to Practice Better
To get started go to 3rd Party Integrations in the Settings menu. Click the Link button next to Google Calendar.

A popup window will appear asking you to sign-in to Google and to grant Practice Better access to view and modify your calendar. Click Allow when prompted.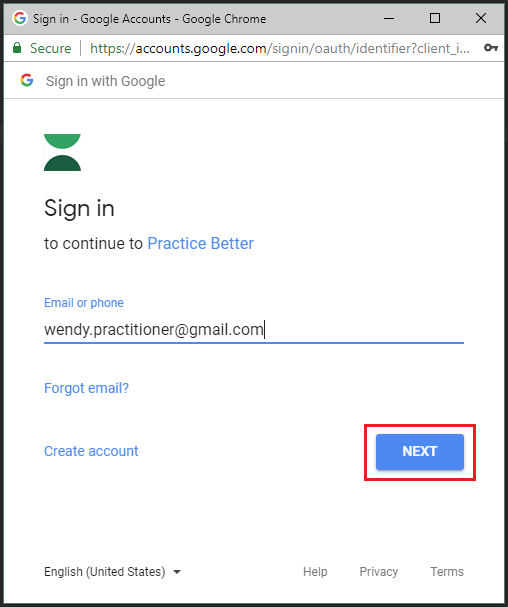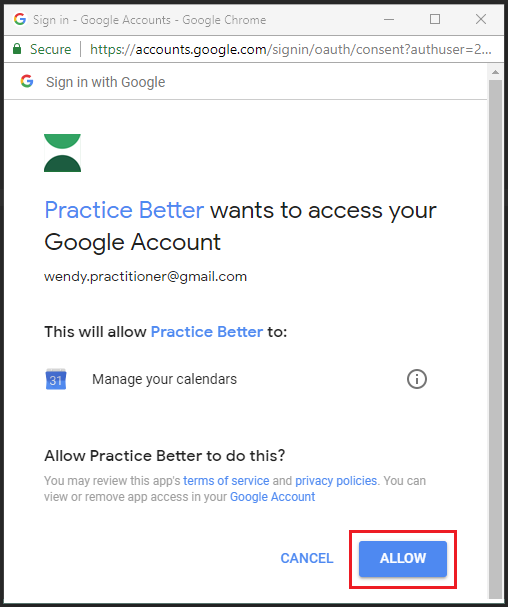 Linking Calendars to Practice Better's Calendar
Once you've linked your Google Calendar account, you will be taken to a page where you can configure how your Google Calendar is integrated into Practice Better.
Integrate with My Calendar
Select all calendars which should be visible in your Practice Better Calendar. You will see events displayed when going to My Schedule > My Calendar.
Calendars selected here will be checked for conflicts when both you and your clients try to book sessions. E.g. if you have set up availability for Tuesdays from 1:00 PM to 3:00 PM and you also have a busy event in your Google Calendar from 1:00 PM to 2:00 PM, clients will only see availability times from 2-3:00 PM.

Syncing Events to Google Calendar
You can optionally sync sessions, pending tasks, personal events and availability back to your Google Calendar. Under the Sync to Google Calendar section, check the "Sync events to my Google Calendar" checkbox:

Select a Google calendar from the drop-down menu and enable the events you'd like to sync: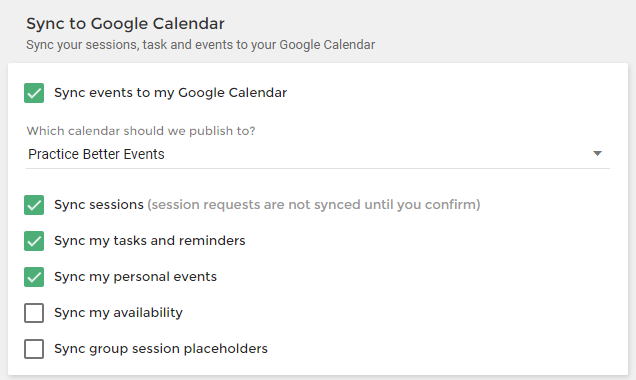 Including client names when creating events and reminders
By default, we include client names when syncing events back to your Google Calendar. You can disable this option if you'd rather not have your clients' personal information stored in your Google Calendar.
Include session buffer time when creating events in Google Calendar
By default, events are synced back to Google Calendar without buffer time. You can enable this option if you want to ensure you don't book personal events which overlap with the time required before and after your Practice Better sessions.
Sending session invites using Google Calendar
By default, Practice Better sends confirmation and reminders emails for your upcoming sessions. You can instead send these notifications using Google Calendar's built-in notification service.
Keep in mind, when clients receive these notifications they will come from the email address associated with your Google account, i.e. if you're using a personal Gmail address, clients will see this instead of your business/professional email address in the email "From" field.
Privacy Options
Enable the "Hide event details" option if you want your personal events to remain private when other team members view your calendar and book appointments on your behalf:

Team members will see either "Free" or "Busy" when these events are displayed in your Practice Better calendar.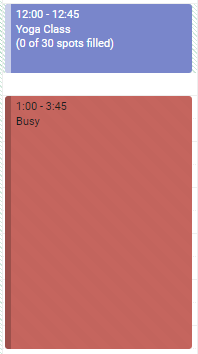 Advanced Availability Options
You can set up additional availability options on your Bookings & Cancellation Settings page, including ignoring all-day events and adding buffer time to your personal events.
Learn more about Booking & Cancellation Settings
You can return to your Google Calendar settings at any time by going to Settings > 3rd Party Integration, then click the Settings icon next to Google Calendar:
Unlinking Google Calendar
You can unlink your Google Calendar at any time by going to Settings > 3rd Party Integration then click Unlink. This action will:
Remove all Google events from your Practice Better > My Calendar page
Remove all Practice Better events from your Google Calendar