Exporting Client Data
There may be times when you need to get access to your client data outside of Practice Better. You can easily export your client records, including:
Personal & Contact Information
Medical History
Diet & Lifestyle
Measurements & Vitals
Lifestyle Recommendations
Booking History
Invoice History
Superbills
Session Notes
Tasks & Reminders
Completed Forms
Published Protocols
Journal Entries (text-only)
Message History (text-only)
First, go to your Client List page by navigating to My Clients in the navigation bar. Click the more options button next to a client and click the Export data button.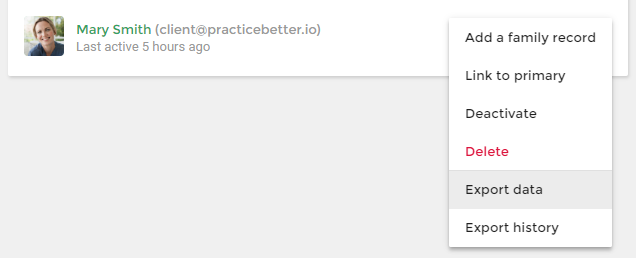 Select the items you'd like to export for this client. Hit Create Archive in the toolbar to start the export process. We'll send you an email when your client archive is ready.
You can view your client's export history by selecting Export history from the more button in the Client List.
Your exports will remain accessible for 48 hours after which they will be purged from our system. We do not keep backups of these exports.
Exporting Contact Information
You can also export your client contact information (first name, last name, email, etc) as a spreadsheet to keep for your records or to import into your campaign management tool.

Head over to My Clients, then click Export contacts from the Fast Action Button: