Overview
Credits can be used to send additional fax and SMS reminders if you've reached your plan limit. Credits can only be redeemed on our paid plans. You can find pricing for credits on our Pricing page.
Managing Credits
Select My Subscription from the Profile menu in the top-right corner: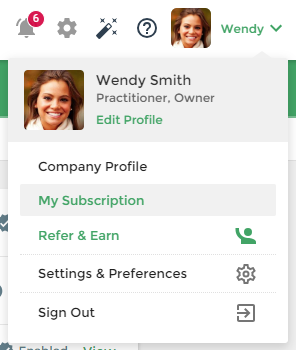 Under the Add-ons & Credits section, you'll see a breakdown of your current credit balance and auto-recharge settings:

You can also view a history of your credit transactions (e.g. credit purchases, faxes sent) by clicking the More Options menu (3 dots) and select View history from the options provided.
Adding Credits
Follow these instructions to add credits to your account:
1. Click the Add credits button on your Billing & Payments page
2. Select the number of credits you'd like to purchase from the dropdown menu

3. Click Add Credits to purchase the credits requested. 
Your invoice may include charges for upgrades made to your subscription during your current billing cycle. Learn more
Setting up auto-recharge 
Set up auto-recharge so you never run out of credits when you least expect. We'll automatically top-up your credits when your balance reaches a certain limit.
1. Enable the Set up auto-recharge? checkbox
2. Enter the balance which should trigger the recharge of your balance. E.g. enter 15 if you want us to recharge your account when your credit balance goes below 15 credits.

3. Select the Recharge amount to top-up your account.
You can edit your auto-recharge settings or disable the feature by selecting Edit auto-recharge settings from the More Options menu (3 dots) in the Add-ons & Credits section of your Billing & Payments page.