Merging Clients
We provide the option to merge clients if you have duplicate records in your account. This may happen if you've previously added a client to the system and they subsequently request a session/package with another email address.
1) Go to My Clients
2) Click the 3 dots next to a client and select Merge with... from the options provided
3) Depending on the clients being merged, you may have the option to select which client should remain after the merge is completed (primary). Resources from the secondary client will be merged into this primary record.
4) Review the resources which will be merged into the primary record: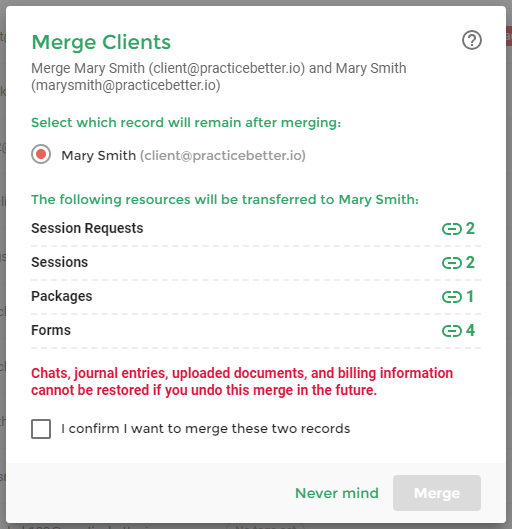 5) Click the checkbox to confirm the merge and click Merge in the bottom-right corner of the popup.
Merge Restrictions
One of the clients must be active (as opposed to a prospective client)
Nether client can be a child/sub-record in a family record. You will first need to unlink the child record from the parent.
What resources can be merged?
In general, all resources in your client's file can be merged, although there are a few exceptions:
Conflicting journal entries (e.g. both clients have logged weight entries for the same day in their Lifestyle Journal)
Conflicting journal targets (e.g. you've set up macronutrient targets for both clients)
Conflicting measurements/vitals (e.g. you've added body measurements for both clients on the same day)
In the case of conflicts, the resources in the primary record will remain available and resources from the secondary record will be deleted from the system. We recommend exporting the secondary client's file before merging with another client.
What resources cannot be unmerged?
Once two clients have been merged, you will not be able to restore chat messages, uploaded documents, billing information, or resources which were removed because of conflicts (see above).
Unmerging Clients
You may decide in the future to unmerge clients you've previously merged. Follow the instructions below to unmerge clients:
1) Go to Settings > All Settings & Preferences
2) Select Client Merge History
On the Merge History page, you'll see a list of all previous merges you've done in your account. If you've merged multiple records into one client, the most recent merge must be unmerged first before undoing past merges.