You can set up an autoresponder for direct (one-on-one) chats by going to your Settings > Telehealth & Messaging page. Click Edit settings from the Chat Autoresponder section:

Choose the weekday and the time range for your autoresponder (e.g. daily between 5:30PM and 8:30AM the next morning):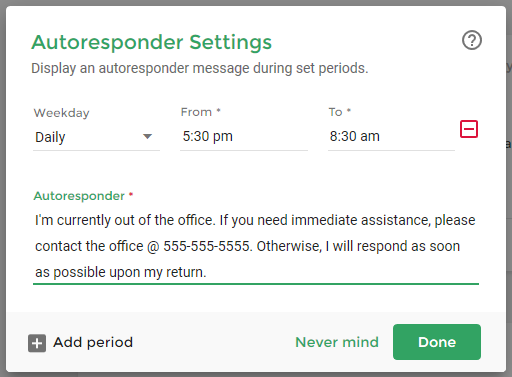 Add additional autoresponder periods by clicking Add period in the bottom-left corner.
Your autoresponder will be displayed to any client who sends you a direct message during the period(s) you've set up. The message will be displayed once every 30 minutes.

You can keep track of when your clients receive an autoresponder by looking for the "A" badge next to a recent message on your main Messages page:

Removing an Autoresponder
If you would like to remove an autoresponder, you can do so by navigating to the Gear icon>Telehealth & Messaging.
Scroll to the Chat Autoresponder section, click on the More Options button next to the autoresponder, and select Delete autoresponder.