Broadcasts allow you to send messages to multiple clients at once. You can send either direct chat messages, emails or both.
Creating a new Broadcast
To create a new broadcast, go to your Chat page and select click the New broadcast from the Fast Action Button in the bottom-right corner:
1) Enter a description for your broadcast. Use a descriptive name to identify your message (e.g. "Group Session Recap - May 25th"). Your clients will not see this description when receiving your message.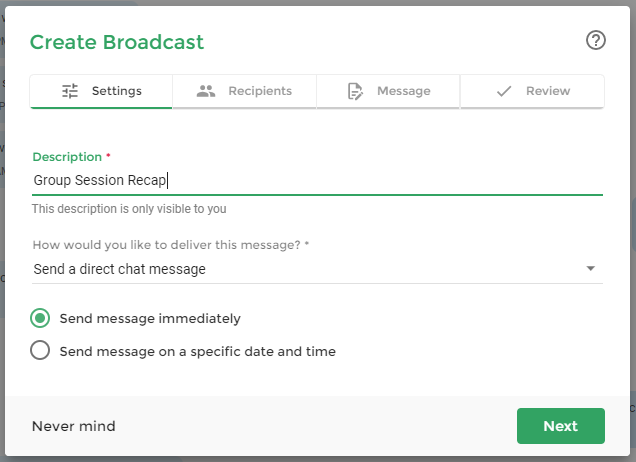 2) Select the delivery method. You can choose from the following options:
Send a direct chat message - Clients with access to the Client Portal will receive a direct chat message.
Send a direct chat message (or email if uninvited) - Clients with access to the Client Portal will receive a chat message; clients without access to the portal will receive an email
Send an email
Send a direct chat message and an email
3) Select a date for your message to be dispatched. This can be set to send immediately or scheduled for a future date. Your message will be sent based on the time zone in your profile.

4) Click Next to select to select the recipients of your message. You can select individual clients or send your message to recipients with a specific tag(s):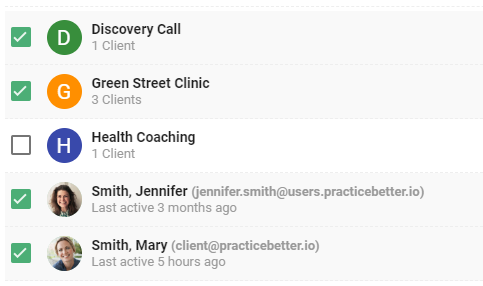 Tip: Hold the Shift key and click a tag to select all clients in the list associated with the tag. You can then unselect individual clients if you don't need to send the message to all clients with the tag.
5) Enter your direct chat and/or email message. Use the placeholder button (<>) to insert template fields to personalize your message. You can include the following placeholders in your chat and email messages:
%CONTACT_NAME%
%CONTACT_FIRSTNAME%
%CONTACT_LASTNAME%
6) Review the list of recipients and click Submit/Schedule to create your broadcast.
A Note on SPAM
Misspelled words, excessive use of caps and repetitive use of exclamation marks and promotional leads such as "free" and "buy now" will likely result in your emails getting sent straight to the junk folder and clients unsubscribing from future notifications.
Examples of "spammy" content include:
BOOK A FREE CALL!!!
LAST CHANCE TO SAVE!!!
BUY NOW!!!
Sending Broadcasts to Clients in a Program
You can send broadcasts to clients in your program by going to your program's Overview page. Click the Fast Action Button in the bottom-right corner, then select Send a broadcast from the options provided: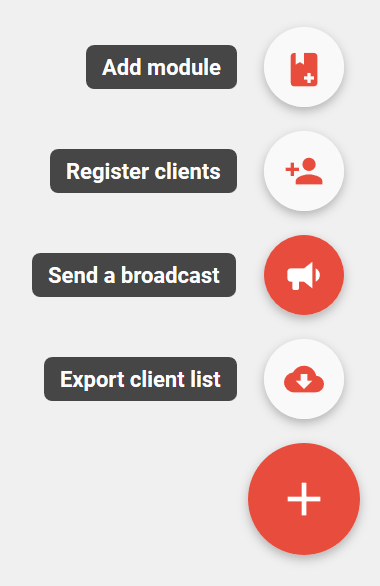 Updating and Deleting Broadcasts
You can manage your upcoming and past broadcasts from the Broadcasts tab on your Messages page. For scheduled broadcasts, click on the broadcast description to make updates before your message is dispatched.

Click the 3 dots to either duplicate, cancel or delete the message.