With our Team Plan, you can share services, forms, and other resources with team members to incorporate into their workflow. For example, you can share your "Discovery Call" service which team members can offer to clients, or share a template for team members to create session notes for their own appointments.
The following resources can be shared with other team members:
Services
Packages
Coupons
Forms
Disclaimers
Note Templates
Protocol Templates
Module Templates
Task Templates
Lifestyle Recommendation Templates
Insurance Codes
Snippets
Supplements
Team members have read-only access to shared resources unless granted permission to modify resources in your account.
With shared resources, any changes made will be applied to all team members the resource is shared with. For example, if you delete a resource that has been shared with all team members, this will then delete the resource for them as well.
Enabling Team Sharing
Team sharing can be enabled by clicking the More options menu (3 dots) next to the resource. Select Manage sharing from the options provided. For example, to share a form, go to your My Practice > Forms & Waivers page, then click the 3 dots next to a form and select Manage sharing:

1) In the team sharing popup, select the desired access mode from the Share with... picklist: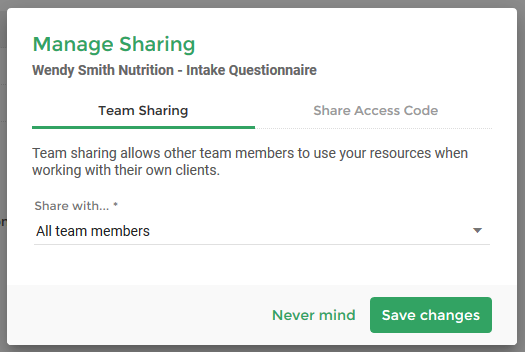 The following sharing options are available:
Private
All team members
Specific team members
Specific roles - resource will be shared with team members who belong to specific roles
2) Save changes
Resources you've shared can be identified by the Shared tag as illustrated below:

Resources shared with you (from other team members) will display the owner of the resource:
Sharing Coupons
You can share coupons with other team members to use with their own products. Go to your Billing & Payments > Coupons section and follow the Enabling Team Sharing instructions above.
If your team member already has a coupon with the same code, their coupon will be applied to the product being purchased. Ensure your team member has deleted their coupon if you want the discount from the shared version to apply to your clients' purchases.