Practice Better allows you to enter and track client measurements using either the imperial system (lbs, inches) or metric system (kg, cm).
The measurement system you choose applies to all clients in your account. Team members in a team account will also be required to use this system to track client measurements.
Updating your Measurement System
1) Click the Setting icon, then select All Settings & Preferences:
2) Select Measurements from the Settings menu.
3) Select either the Imperial System or Metric System from the options provided:

4) Click Save Changes.
You may be prompted to convert existing measurements from the previous system of measurement. Click Convert to continue.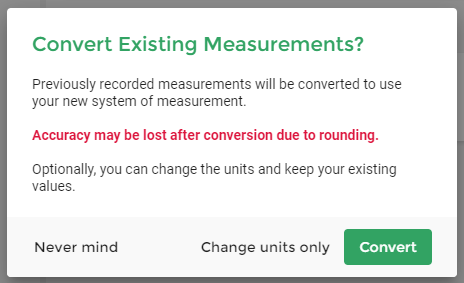 Optionally, you can choose to only update the measurement units by clicking Change units only. For example, if you previously recorded a client's weight as 68 lbs, the client's measurement will be 68 kg after you save your changes.
Entering Weights using Ounces (Imperial System)
If you're working with infants, you can adjust your settings to enter weights in both pounds and ounces. This option can be enabled under the Height & Weight Measurements section:

After saving your changes, you'll see a new input field for ounces when entering weights in your client's Measurements & Vitals section:

Entering Heights using Feet and Inches (Imperial System)
By default, heights must be entered in the system using inches only. You can enable the option to use both feet and inches from the Height & Weight Measurements section:

After saving your changes, you'll see two input fields for feet and inches when entering heights in your client's Measurements & Vitals section: