This article provides instructions on how to set up forms to be sent to clients on an ongoing daily, weekly, or monthly schedule.
Setting up a Recurring Schedule
1) Navigate to your client's Recent Activity page.
2) Click the Fast Action Button in the bottom-right corner and select Send forms from the options provided. You can also click Send forms on your client's Forms & Waivers page.
3) Select one or more forms to send to your client then click the Recurrence Options tab: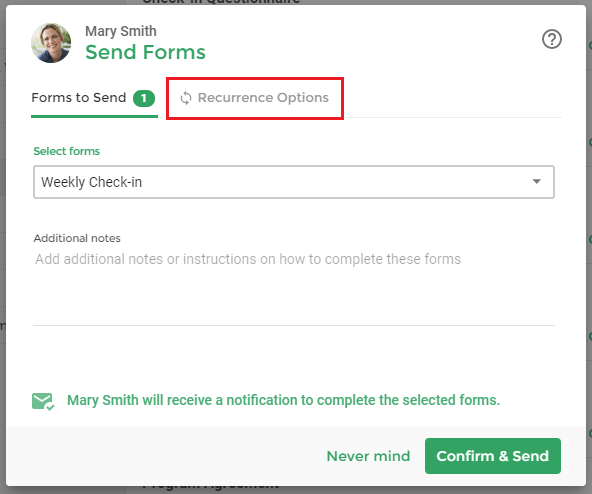 4) Enable the Send forms on a recurring schedule option.
5) Adjust the recurrence frequency, start date and dispatch time. You can preview the next upcoming dispatch times by clicking the Upcoming schedule button in the bottom-left corner of the popup:

6) Click Confirm & Send to dispatch the selected forms now and set up the recurring schedule. Once you click Confirm & Send, the first form will be sent immediately with the subsequent forms sent according to your schedule.
Adjusting Recurrence Schedules
You can edit, pause or delete scheduled recurring forms by clicking on the Recurrence Settings tab in your client's Forms & Waivers section: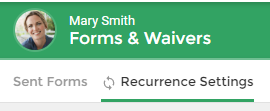 Click Edit to adjust the recurring schedule and the forms to be sent to your client:

The recurrence schedule can be paused by selecting Pause from the More Options menu (3 dots). You can resume the schedule at any time by selecting Enable from the same menu. The system will resume the schedule and send forms at the next upcoming dispatch date.