If your payment has failed for your Practice Better subscription, there are three different ways you can pay for your invoice:
"Subscription Payment Failed" email notification
When your subscription payment fails, you will receive a "Subscription Payment Failed" email from Practice Better with a link to pay for your invoice. Click on the Pay Invoice button in this email:

Within your Portal
To view any outstanding invoices for your subscription, navigate to My Profile > My Subscription. In the Recent Invoices section, click Pay invoice:

If you need to update your credit card details, you can follow the instructions in this help article: Updating your Billing Information
Sign-in page
Your account will be deactivated if we are unable to collect payment for your monthly subscription after 4 automated attempts. You will not be able to access your account until the payment has been made.
After you sign in, you will be prompted with a message indicating the outstanding balance for your subscription.
If you'd like to pay with a different card, select Update card. This will also update your card on file for future subscription payments.
If you'd like to process the payment for your invoice, select Reactivate my account.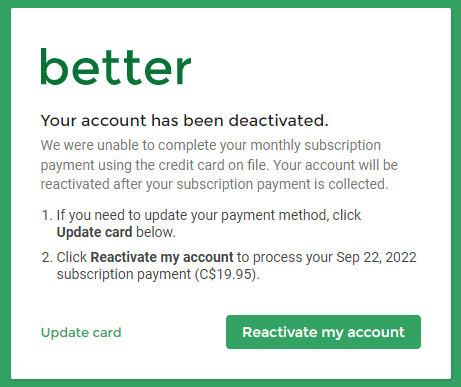 Once selected, you will be given the option to review your invoice details by clicking View invoice, or you can choose to proceed with the payment by clicking Pay now: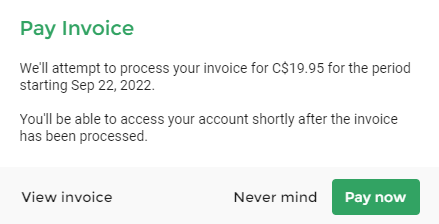 Your account will be automatically reactivated after the invoice is paid.