Clients can be enrolled in your program in one of 3 ways:
By you manually adding them to the program from the Manage Program screen
By registering for your program via your Bookings Page
By purchasing a package with a program (clients are automatically enrolled once the package is confirmed)
Manually adding clients
Navigate to your program overview page by going to My Practice > My Programs > [Select Program] > Manage
Click the Register Clients button in the left navigation menu:


On the Register Clients page, select all clients you'd like to enroll. Clients who are currently enrolled will already be selected
Optionally, you can add new clients to Practice Better by clicking the Add client button in the bottom right corner:

Click Register in the top-right corner
Tracking Client Progress
Scroll down to Enrollments
Click the View progress button beside the client's name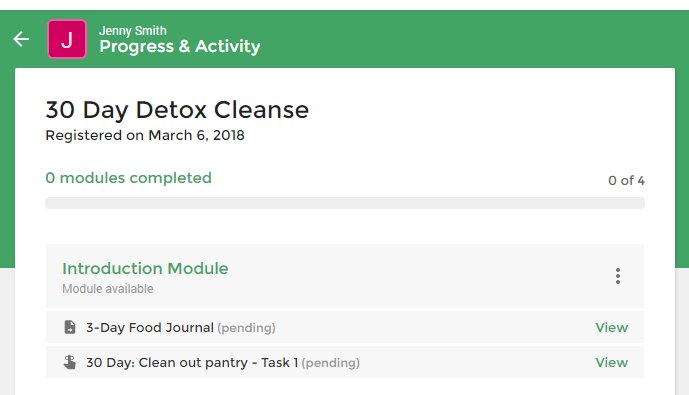 Unlocking Content
Content is automatically unlocked for a client once a module is released. You also have the option to release modules early for specific clients.
Unlocking all modules
1) From your program's Overview page, scroll down to the Enrollments section.
2) Select Unlock all modules from the More Options Menu (3 dots) next to your client's name:

Unlocking specific modules
1) Click View progress next to your client's name
2) On your client's Progress & Activity page, Click Unlock next to a locked module:

Unregistering Clients
Enrolled clients will still have access to your program materials after the program has ended. You can unregister a client from your program by going to your Program overview page, then navigating to the Enrollments section.
Click the More Options button (3 dots) next to your client's name, then select Unregister from the options provided.