Practice Better's Programs features allow you to share your knowledge and expertise with more clients at once! These features make delivering content and coaching clients all available from the same secure platform you trust.
Why are Practice Better Programs features the best option for your Health & Wellness Practice? Not only was it built right into your EMR, it was designed to work specifically for Practitioners like you. From Practice Better, you can:
Follow your clients' progress

Assign module specific tasks which are stored as part of your clients' health records.

Tasks & Goals

Forms & Worksheets

Supporting resources such as

Food + Mood Journal

Lifestyle Journals

Messenger

Upsell services and add-ons

Include sessions as part of your package

Accessible from the same place--one website and one password for both you and your clients to manage.

Fixed-date vs Evergreen Programs
Fixed-date programs run from a set start date and finish on a set end date. Modules are unlocked and accessible to clients based on calendar dates.
Evergreen programs are available at any time. A client/participant can purchase an Evergreen program and run through it on their own. Modules are unlocked and accessible to clients/participants based on durations after enrollment (ie. 1 week after client enrolls).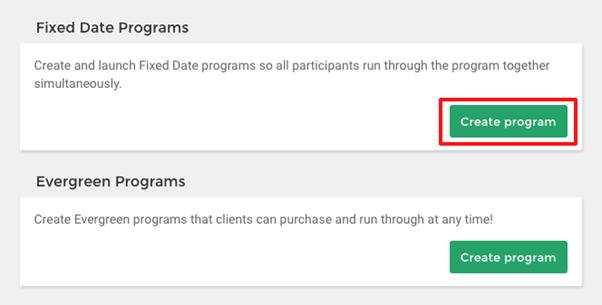 Fixed-date Programs
A Fixed-date Program means that your program has a fixed start date and a fixed end date. Everyone enrolled in your program will start the program at the same time and receive their modules at the same time.
To set up your first Fixed Date Program go to My Programs > Fixed-date Programs > Create Program.
Setting up your program details:
Choose an image for your Program banner.

Name your Program and describe it to potential participants.

Select your fixed start and end dates.

Set up associated payment plans by clicking on the

Advanced Options tab.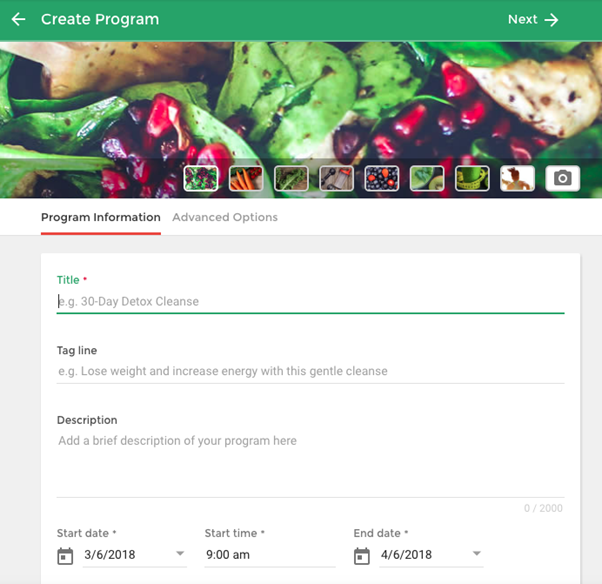 Evergreen Programs
Setting up Evergreen Programs is done just the same as setting up a Fixed-date Program. The main difference when setting up an Evergreen Program is that you will set modules to be unlocked based on how much time has elapsed since the client enrolled in the program.