This article describes a few steps you can take if you're experiencing issues with your Telehealth sessions.
Browser Compatibility
Most Telehealth issues originate from using older or unsupported browsers. Ensure you are using the latest version of Google Chrome, Apple Safari or Mozilla Firefox. 
If you are using Video Chat/Telehealth in a mobile browser on your phone or tablet, ensure your OS version is iOS 11+ for iPhone/iPad or Android OS 7+ for Android phones/tablets.
If you are using any other browser, e.g Microsoft Internet Explorer, Microsoft Edge or Opera you will likely have issues connecting to your session.
Ensure you have granted permission for Practice Better to use your camera and microphone
Without access to your camera and microphone, you will not be able to participate in your Telehealth session. You will see the following error if your camera and microphone are not available:

If you also cannot see yourself in the bottom-right corner of your screen, Practice Better does not have access to your camera.
Firefox and Safari typically ask you to enable permissions for each session. If you've accidentally clicked on Don't Allow or dismissed the popup without allowing access, you can simply close and re-open the Telehealth session.
Click Allow when you see the following popup: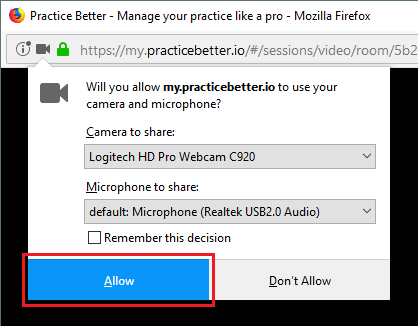 Accepting permissions on Apple Safari:

Google Chrome will prompt you the first time you join a session. Click Allow to enable access to your camera and microphone: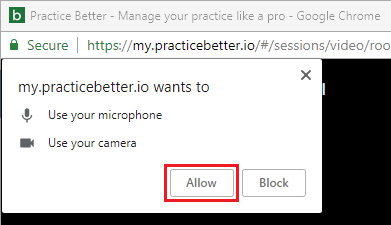 If you click Block or close this popup without allowing access, you may need to manually enable permissions. You can do this by clicking on the video icon in the top-right corner of your screen: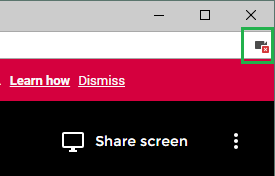 Click "Always allow..." to enable the permissions, then click Done to save the settings. Reload the page to access your Telehealth session: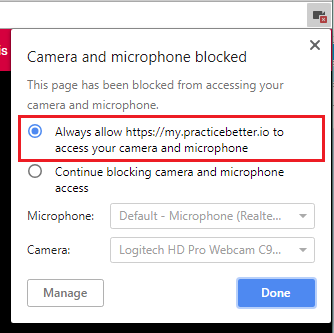 I've accepted permissions but I'm still seeing the red error message
Another application on your computer may be using your camera
If your computer's camera is in use by another application (e.g. Zoom, Skype or your PC's camera app), we will not be able to access your camera to conduct your session. Close any other programs which may be using your camera, then try rejoining your session.
Your browser may have trouble connecting to your computer's camera
In some cases, you may need to restart your computer if your browser is having trouble connecting to your camera.
I cannot hear the other participant
Other than permissions issues, there are a couple reasons why you may not be hearing the other participant:
1) Your audio output device is not set up correctly. This may happen if you have multiple output devices on your computer (e.g. headphones, speakers, monitor speakers) and audio is going through the wrong channel.
2) The other participant's audio input device is not set up correctly. This may happen if the participant has multiple input devices (e.g. both a webcam microphone and a headset microphone) and they are speaking through the wrong input device.
You can adjust your audio input and output devices by clicking on the Settings icon in the top-right corner of your Telehealth session:

For example, if you want to try adjusting your Microphone, click on the Microphone drop-down menu and selecting another audio input device from the options provided. Click Done to save your changes: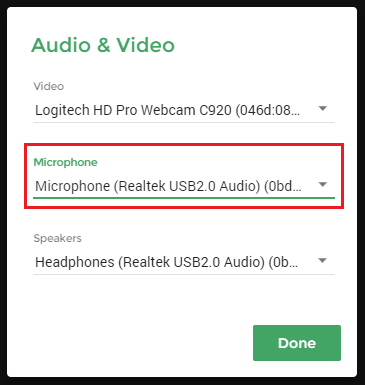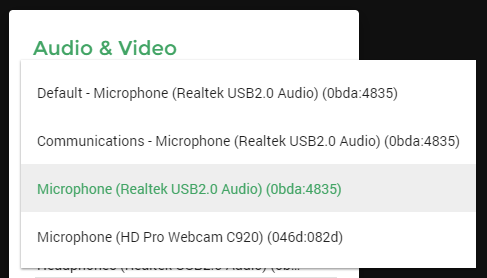 The video and audio are out of sync
Your video chat participant may experience a lag between your video and audio if you have too many open tabs/windows/apps on your computer or phone. Close any open tabs/apps then rejoin your video chat session.
Known Issues
When hosting a video session from Firefox your client may have trouble hearing you if using another browser. Workaround: Exit the session by closing the tab/window then re-join the session.
Still having issues?
If none of the solutions provided solve your issue, you can also try closing your browser (not just the video chat popup, but all open tabs and windows) then reopening your Portal and starting your video chat session again.
Restarting your computer may also be helpful if you're having issues enabling your webcam or microphone during the session.