Once you've linked your Fullscript account, you'll be able to add Fullscript products to you Practice Better protocols. In this article, we'll show you how to search your Fullscript catalog, compare products and check product availability before sharing protocols with your clients:
Adding Fullscript Products to a Protocol
Fullscript products can be added to both protocols and protocol templates. On the protocol summary screen, click the Add a supplement recommendation button or select the same option from the Fast Action Button in the bottom-right corner: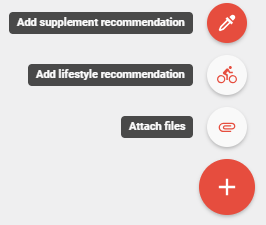 On the Supplement Recommendation page, you'll see an option to search for supplements by name, brand, supplement type (e.g. Antioxidants), allergens (e.g. Dairy Free) and certifications (e.g. Vegan, Non GMO Verified) condition: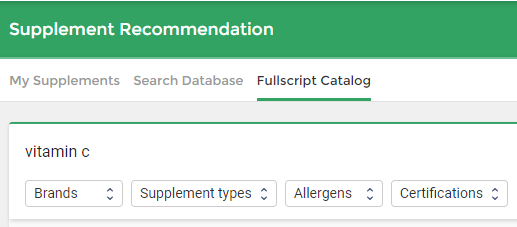 If you've added favorites to your Fullscript Dashboard, you'll also be able to access these products from the My Favorites section: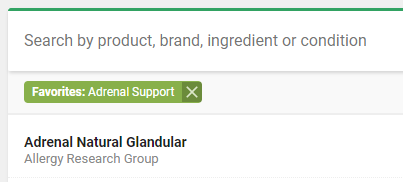 Common supplement types and brands are also available on this page to quickly search for your preferred products.
Searching for In-stock products only
Your Fullscript catalog includes in-stock, back-ordered and unavailable products. You can restrict the search to return only in-stock products by clicking the "Available" button to the right of the search box: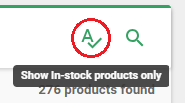 Selecting a product from the search results
Click the Select button next to a search result to add the product to your current supplement recommendation. If the product has multiple variants (e.g. 30 capsules, 60 capsules), you'll be prompted to select one to add to your recommendation: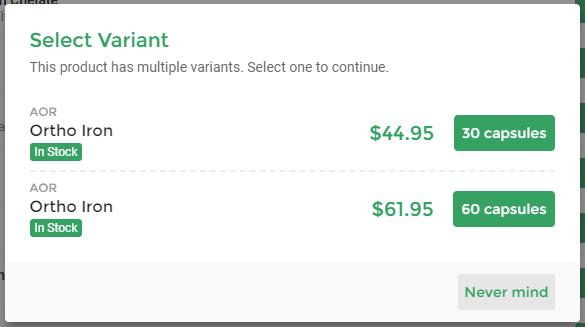 Using Recommended Dosages
Some suppliers may include recommended dosages for products you add to your protocols. By default, you'll be prompted to include the supplement's recommended dose, frequency, and notes (if available):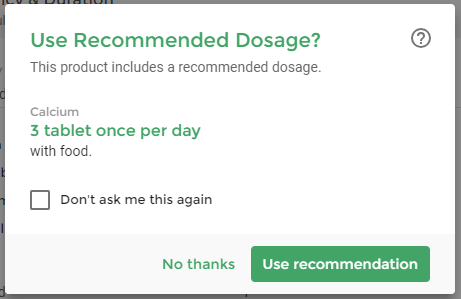 You can disable this popup from appearing in your Fullscript Settings.
Adjusting Supplement Dosages
Once you've selected a variant, you'll be able to customize the dose, frequency, and duration of the supplement recommendation. The dose is required whereas the frequency and duration fields are optional.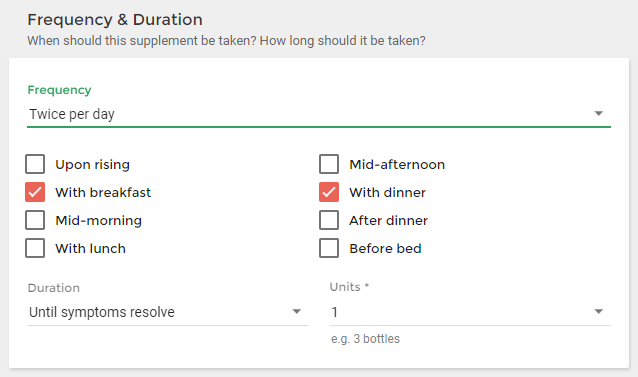 Viewing Product Details + Comparing Similar Products
You can view product details (e.g. MSRP, description, recommended dosage) by clicking on the 3 dots next to the product in your search results: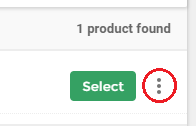 A popup will appear with additional information on the selected supplement. You can resize, drag and move this popup around if you need to reference the supplement details while creating your recommendation.
Comparing Products
Clicking the 3 dots next to another search result will add the product to the supplement details popup allowing you to easily compare products side-by-side: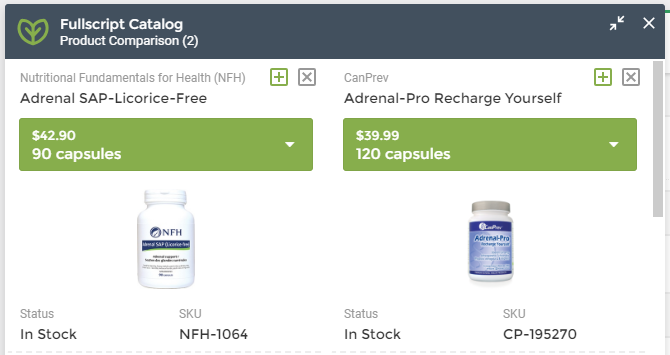 Click the [+] button in the top-right corner of a product to add it to your current recommendation.
Finding Similar Products
You can also find similar products at the bottom of each product displayed in the popup. The Similar Products section allows you to swap products which may be currently back-ordered or unavailable. Clicking on one of these products will add it to your current product comparison: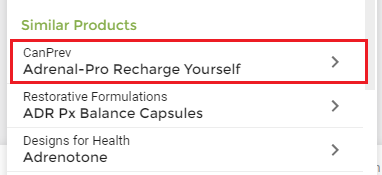 Checking Product Availability
We recommend checking product availability before sharing protocols with your clients. You can do this by clicking the Check Availability button in the Supplement Recommendations section:

If a product is back-ordered or unavailable, you'll still be able to add it to your recommendation. However, you do have the option to swap it out for a similar product by clicking the Swap button next to the product: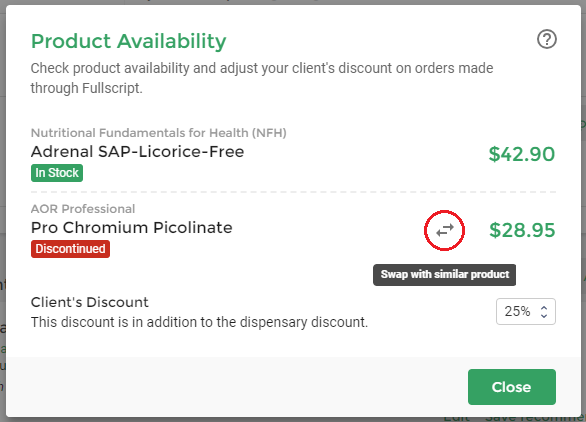 Retrying Failed Fullscript Recommendations
In the event that an associated Fullscript recommendation fails to be created when you publish your protocol, Practice Better will send you an email notification and display a warning message underneath your protocol.

You can click on the More Info button to access additional details regarding the failure and steps to resolve the failure, as well as an option to re-publish your Fullscript recommendation by clicking on the Retry button.