Set up billing defaults to streamline the creation of superbills and CMS-1500 forms.
1) Click on the Settings button (gear icon) then select All Settings & Preferences: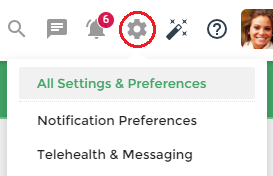 2) Select Insurance Billing from the available options
Company Profile
The company profile section lets you set up your default Tax ID and optional Organization NPI number (Type 2). You can provide either your individual Social Security Number if you are a solo practitioner or a Business EIN number if you operate as part of an organization.
For security purposes, your Tax ID is not stored in plain text. The unmasked Tax ID will be displayed on superbills and CMS-1500 PDF forms generated by the system.
My Profile
Provide your individual NPI number and taxonomy code in the My Profile section. If you are unsure of your taxonomy code, you can easily find this by searching the following website:
https://npiregistry.cms.hhs.gov/
Enabling ICD-9 Codes
By default, you'll be able to select diagnosis codes from the most current ICD-10 code set. If you are still using legacy ICD-9 codes to submit claims, enable the Use ICD-9 diagnosis codes? option.
Send Superbills as Attachments
We provide the option to either send superbills as links which clients can download securely from their Client Portal or as an attachment in the superbill notification email. By default, superbills will be sent as a link.
Depending on your settings, your SSN number may be included in superbills generated by the system; we recommend not sending sensitive information like SSNs as email attachments.
Place of Service Defaults for Virtual Sessions
If you're seeing clients in-person, you'll be able to set the default CMS Place of Service code directly for each office location in your My Schedule > My Locations page. This option isn't available for phone and telehealth sessions, but you can set up defaults for these here:

Adding Insurance Payers
For CMS-1500 forms, your carrier (payer) details will need to be included with each submission. You can add frequently used carriers here by clicking the Add payer button:

Saving Frequently Used Procedure Codes and ICD-10 Codes
Add custom codes and frequently used codes for superbills and CMS-1500 forms. Select Add ICD-10/9 Diagnosis Code or Add Procedure Code from the Fast Action Button in the bottom-right corner: