Using Zoom Telehealth is a great option if you need to:
Record meetings
Conduct meetings with multiple clients
Conduct discovery sessions with potential clients without giving them access to the Client Portal
This article will show you how to set up your Zoom account and create Zoom meetings for your appointments and group chats.
Linking an Existing Zoom Account to Practice Better
1) Go to your Settings > 3rd Party Integration page, then navigate to the Communications section.
2) Click Link next to the Zoom integration:

3) A popup will appear prompting you to enter your Zoom email address and password. Once you've signed in, click Authorize to give Practice Better access to create and manage your Zoom meetings: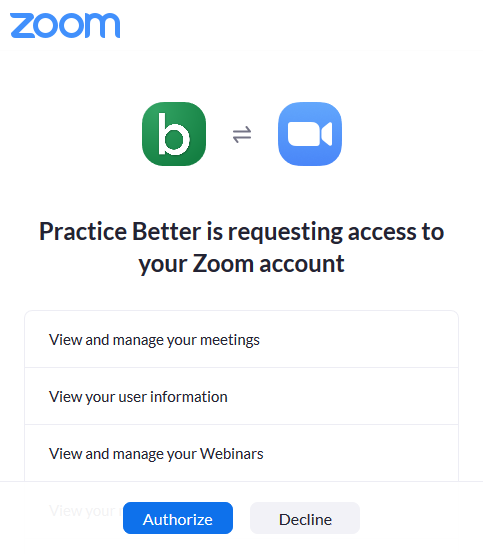 4) Success! Your Zoom account is now linked to Practice Better.
Unlinking your Zoom account
You can unlink your Zoom account at any time by going to your 3rd Party Integration page and clicking Unlink next to the Zoom integration:
You can also unlink your Zoom account directly from your Zoom Marketplace account using the following link:
https://marketplace.zoom.us/user/installed
Adjusting your Zoom Meeting Preferences
You can make adjustments to your Zoom meeting settings (e.g. auto-recording meetings, allowing participants to join before start) directly from your Zoom dashboard:
https://zoom.us/profile/setting
Making Zoom the Default for Telehealth Sessions
Once your Zoom account is linked to Practice Better, we'll make Zoom the default option for conducting telehealth appointments. You can adjust the default application (i.e. use Zoom or use Practice Better's built in telehealth option) by going to your Settings > Telehealth & Messaging page:

You can also adjust the default telehealth option on a service-by-service basis by going to your My Practice > My Services.
Under the Booking Options section of your service, choose Zoom for the Use Practice Better Telehealth for video sessions? field:

Creating a Telehealth Appointment
Once you've set up Zoom meetings for your service, you can schedule appointments by going to your My Practice > My Services page, then click Book a client.
Set the How would you like to conduct this session field to Online/Video chat, and select Use Zoom for the telehealth method:

Once your session has been booked, you'll see a Start Zoom meeting button next to the session on your My Bookings page:

Confirmation and reminder emails sent to your client will include a link to join the Zoom meeting. Access to the Client Portal is not required.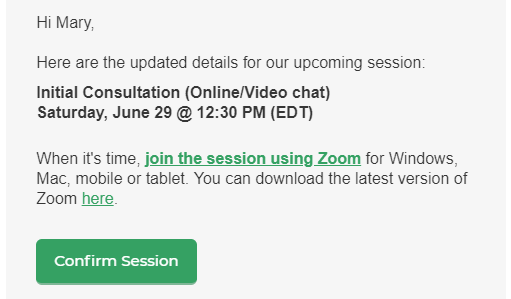 Copying your Zoom Meeting Invitation
You can copy your meeting invite by clicking the 3 dots next to your session from your My Bookings page then select Copy Zoom invite:

You can view your Meeting ID and Join Link by clicking on the session to view your session details:

Creating Instant Meetings for Chat
You can quickly set up a Zoom instant meeting for your one-on-one and group chats. This is a great option if you need to do a quick check-in with your client(s).
From your Messages page, click the video button next to a client/group under the Active Chats section: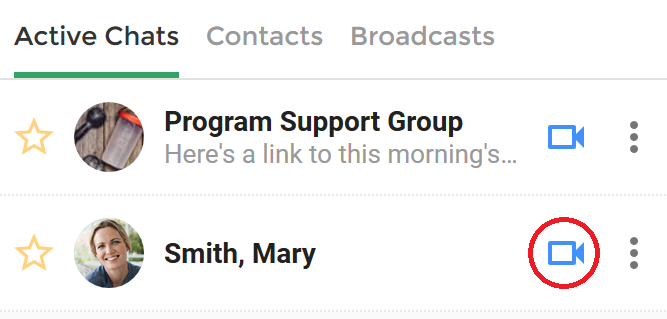 Once your meeting has been created a popup will appear with options to start your meeting and share the Join Link with participants: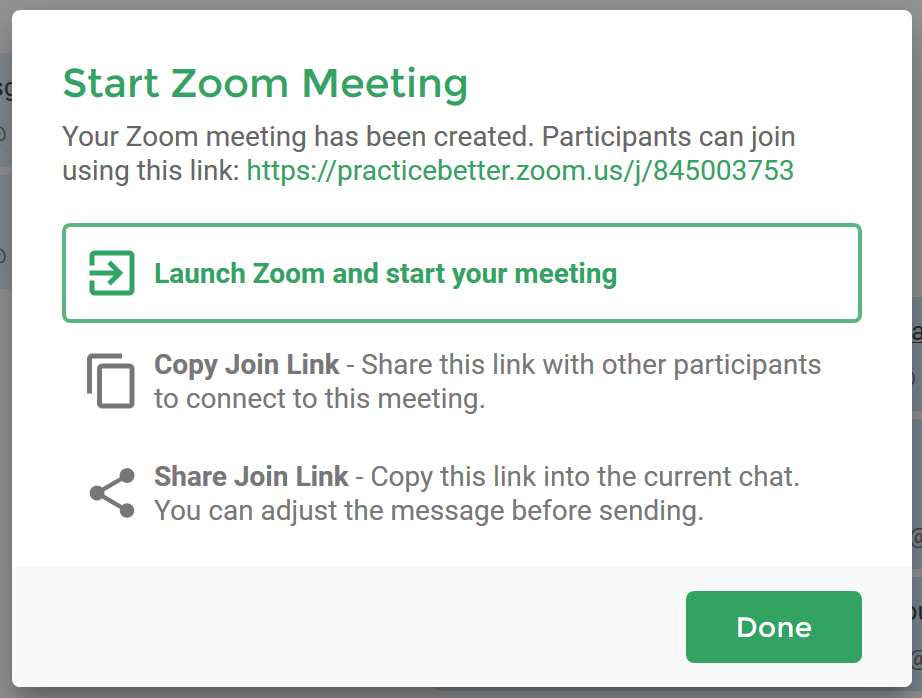 1) Click Launch Zoom to open Zoom and start your meeting
2) Return to the Practice Better tab and click Copy Join Link or Share Join Link to provide your clients with a link to join the meeting. Clicking Share Join Link will paste the link directly into the chat.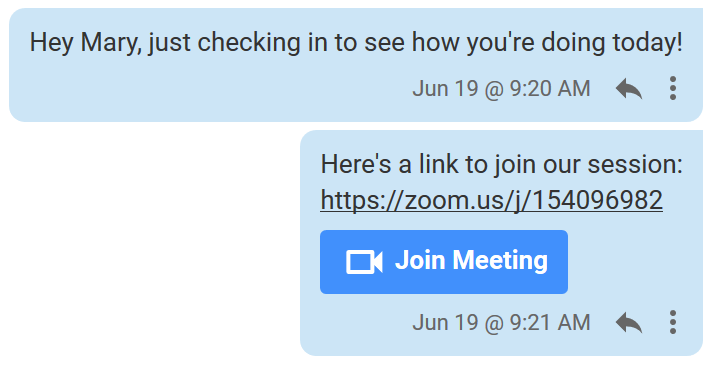 Troubleshooting & Support
Having trouble setting up your Zoom integration? Drop us a line or email us at help@practicebetter.io. You can also find answers to common Zoom meeting questions in the Zoom Help Center.