This article will assist you in the process of switching to Practice Better, whether it be from another software or from paper records.
Importing Data from Previous Vendor
Our IT team can import your clients' basic information (name, email address, mailing address, date of birth, gender) into your account if the information is provided in an Excel or .CSV format.
We can also assist with importing client documents into your Documents section if you can have these exported from your current system. We will need the client files organized by folder for each client. Each folder should be labeled with the patient/client ID or email address which can be referenced back to the CSV file mentioned above.
We can set up a secure Box.com folder for you to upload your client data. Please drop us a line if you would like to proceed with this process.
Bringing Over Existing Fax Number
If you're on the Plus Plan we can port over an existing fax number from another provider so you can use it in Practice Better to receive faxes. Follow the steps in this help article to transfer your existing fax number.
If you're not on the Plus plan you will need to update your subscription in order to use a dedicated fax number in Practice Better.
Adding Pre-Paid Packages
When you sign up there may be some clients that have pre-paid packages that still have sessions remaining. In order to give credit to clients for their purchase you will need to add the package and set the remaining number of sessions.
1) First, create a package with a cost of $0.00 without any services attached in My Practice > My Services and ensure it is private so new clients cannot purchase it.
2) Once you've saved a package, it will show up at the bottom of the My Services page. You can manually book a package for a client by clicking the Create for client button.
Select the client you'd like to create the package for and edit the package details as necessary.

3) The package details will open where you can add the service type and number of each service remaining by clicking Add sessions to this package.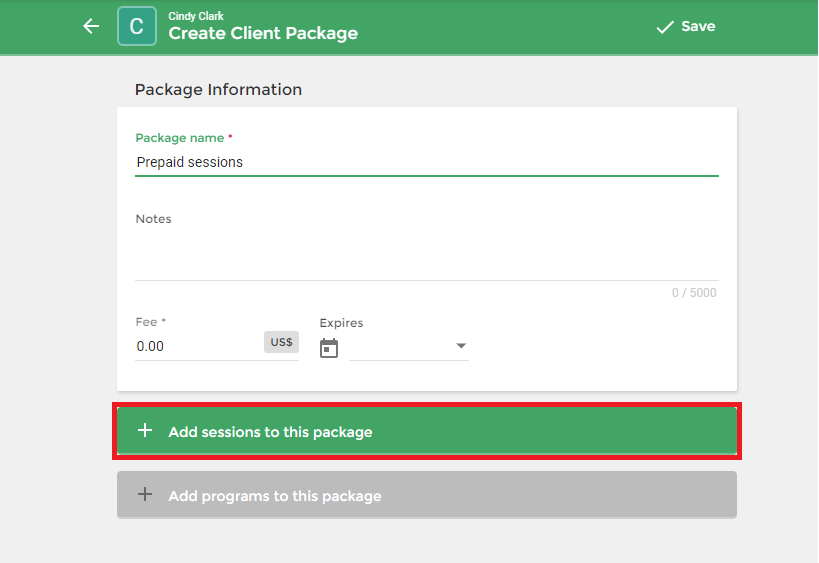 4) Click Save to share this package with your client so they can book their remaining sessions.
Adding Outstanding Payment Plans
If you have clients with time remaining on payment plans you can set up custom payment plans for the remaining balance.
When setting up the payment plan you would want to select Collect Installments for an existing balance.
Collect installments for an existing balance includes applicable taxes in the total balance due and splits that balance into installments. Installments will not be taxed as the tax (if applicable) is assumed to be included in the Starting Balance.
In the Starting Balance enter the amount remaining on the clients previous payment plan.