Combine your individual services to create packages to offer to your clients.
To get started go to My Practice > My Services. At the bottom of the page, you'll find My Packages where you can combine your individual services to make packages to offer to clients. Click Add package to get started creating your first package or on the Fast-action button to add subsequent packages.

Adding services and sessions to a package
When setting up a package, add your Package Name, description and details just as you'd do for a regular service. Once you've provided these details, you can start adding services to your package by clicking on Add sessions to this package:

An Add Service popup will appear allowing you to select the first service you'd like to add to your package from your list of existing services. Specify the number of sessions for this service you'd like to include in the package. 
If you'd like clients to book this service first when they purchased this package, check Require my clients to book this service first. This means that the first time clients book a session from their package, they will have the option of booking this specific type of service.
You can select this option for multiple services in your package; however, your client will only be able to choose one of them when booking the package.
Optionally, you can also select Make this booking mandatory from my Bookings Page. This will ensure your clients request a session for this service at the time of booking. You can only set this option for one of your package's services.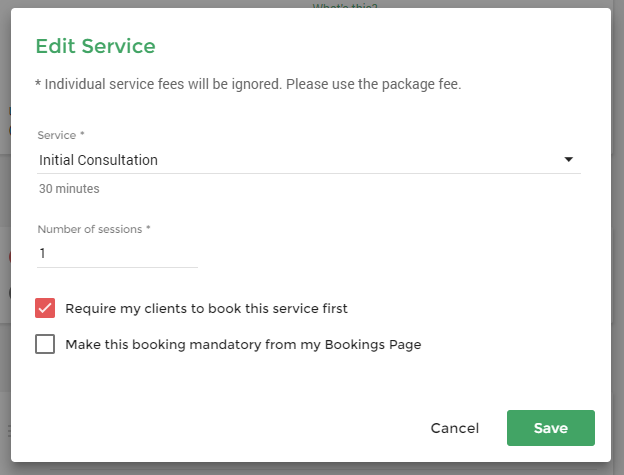 Save Changes at the top right corner to save your package details. 
Creating a package for a client
Once you've saved your package, it will show up at the bottom of the My Services page. If you'd like to book a package for a client, you can click on Create for client. Select the client you'd like to create the package for and edit the package details as necessary.
Booking multiple package sessions
To book multiple sessions for a client's package, go to Bookings & Packages, find the package you'd like to book sessions for and click Book sessions.

Select the first service you'd like to book,  input booking details and Schedule.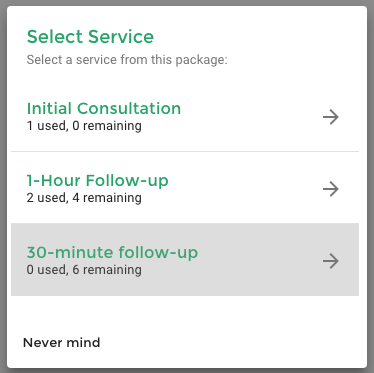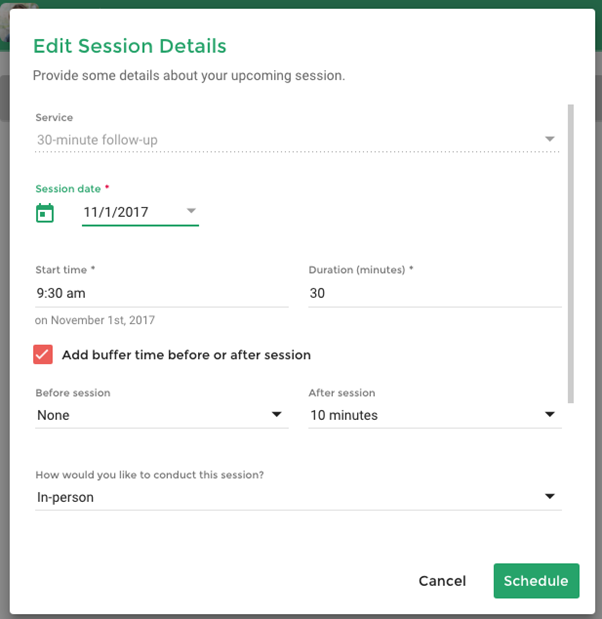 Schedule additional sessions by clicking on Schedule another session and click Book all once ready to complete your bookings.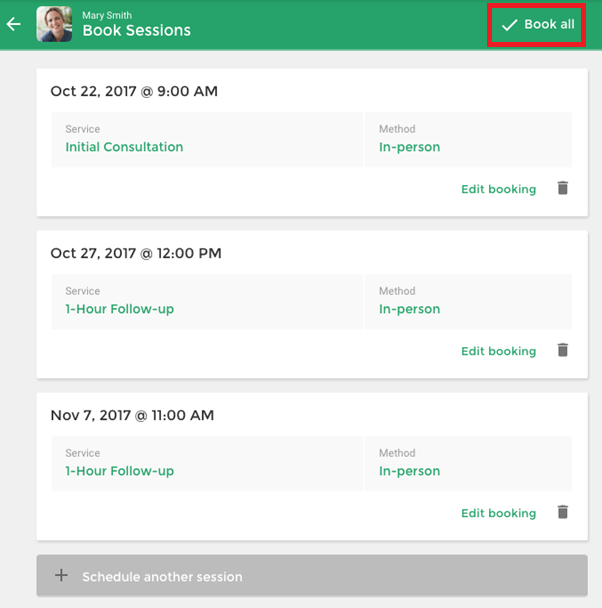 Package details at a glance
You can easily review a client's package details by going to your client's Bookings & Packages and clicking on Manage button next to your client's package.