This article will show you how to integrate your Fullscript account with the Practice Better Team plan to create and manage supplement recommendations.
Signing up for a Free Fullscript account
Sign up for a free account by going to Settings & Preferences > 3rd Party Integration. Under the Supplement Dispensaries section, click the 3 dots next to Fullscript then select Sign up.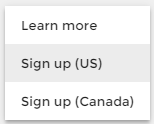 Linking Fullscript to Practice Better
Once you've signed up for a Fullscript account or if you already have one you can then link it to Practice Better by following these steps:
1) Click Link next to the Fullscript Integration.

2) Select your country (United States or Canada) and enter your Fullscript Clinic Key.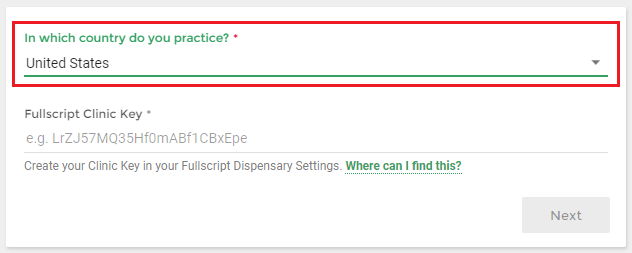 3) Click on Where can I find this? and follow the instructions to create your Clinic Key in Fullscript. Once you've obtained your Clinic Key, copy it into the input field and click Next.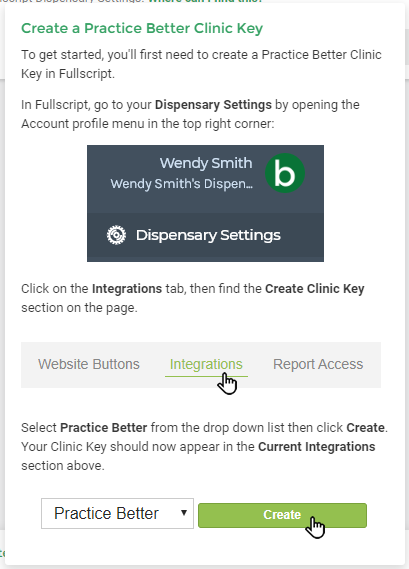 If you'd like to generate a matching recommendation in Fullscript for your Practice Better protocol, make sure to enable the Create corresponding recommendation when publishing a protocol. Learn more about managing your Fullscript settings.
4) Click Connect
Linking Fullscript to Practice Better for team members
Team members have the option to link their own Fullscript account but if the team owner is using the same Fullscript account for each team member it can be linked by either of the following ways.
Share Fullscript Clinic Key
The team owner can share the Fullscript Clinic Key with each team member and direct them to link the Fullscript account themselves.
Link accounts for each team member as the team owner
The team owner can manage the settings of each team member individually in order to link the Fullscript account to each person.
When managing settings, you can switch between team members using the switcher in the bottom-left corner of your screen: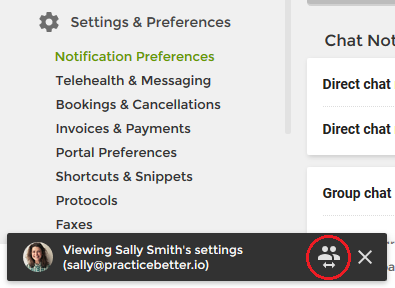 Select a team member from the popup to adjust settings on their behalf: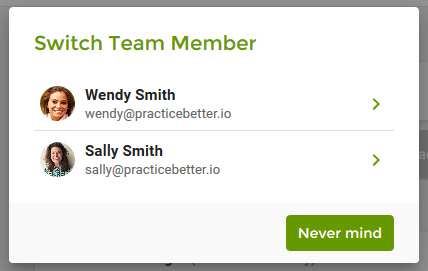 Once the user is selected you can link the Fullscript account the same way as the team owner.
This would need to be repeated for each team member individually.
Please click here for more information on making recommendations using Fullscript within Practice Better.