This is only the first phase of the Practice Better x Fullscript partnership. In the coming months, you will see additional features added as Fullscript and Practice Better work together closely to continue to improve the integration.
Fullscript integration is currently available in our Pro and Plus plans. Sign up for a Free Fullscript account in the US and Canada.
Phase One has 5 main components:
Allows you to search the Fullscript database when making supplement recommendations in Protocols.
Automatically create corresponding Fullscript prescriptions/recommendations in Fullscript upon Saving & Publishing your Practice Better protocol so you only have to do it once.
Automatically send Fullscript prescriptions/recommendations to clients' email upon Saving & Publishing your Practice Better protocols with Fullscript supplements.
Clients will be able to click to view and order Fullscript prescriptions/recommendations from email notifications and within their Practice Better portal.
You can choose to automatically remind clients to refill their prescriptions/recommendations.
All other settings, including payment settings, default discounts, client-specific discounts, canceling prescriptions/recommendations etc., must be managed from your Fullscript portal.
Some of the upcoming features we're hoping to provide include: 
Product details supplements (Supplement facts & Recommended dosages) as seen in Practice Better database
View/adjust discounted price and MSRP when creating recommendations
Allow client to purchase & order supplements using buy now button in Client Portal
Signing up for a Free Fullscript account
Sign up for a free account by going to Settings & Preferences > 3rd Party Integration > Dispensaries > More options (3 dots) > Sign up.
Once you've signed up for an account you can link it to your Practice Better account.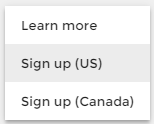 Linking Fullscript to Practice Better
To link your Fullscript account to Practice Better, go to Settings & Preferences > 3rd Party Integration> Dispensaries > Link.

Select your country (United State or Canada) and enter your Fullscript Clinic Key.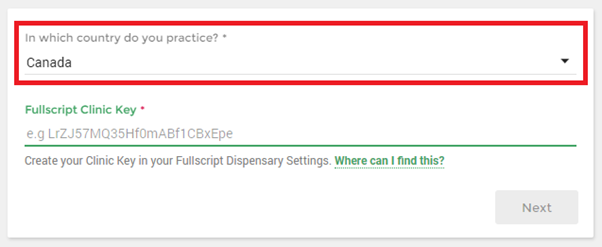 Click on Where can I find this? and follow the instructions to create your Clinic Key in Fullscript. Once you've obtained your Clinic Key, copy it into the input field and click Next.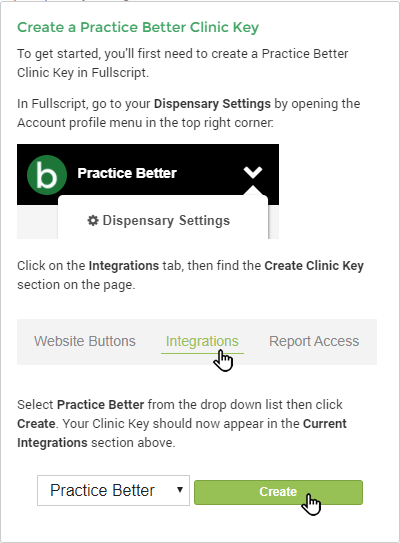 If you'd like for Practice Better to generate a matching prescription/recommendation in Fullscript for your Practice Better supplement recommendations, make sure to checkmark Create a corresponding prescription in Fullscript when publishing a protocol with Fullscript supplements.
You can also choose to automatically send a Fullscript confirmation email to your client when their prescription is created. You will be able to modify these settings in each individual protocol before publishing.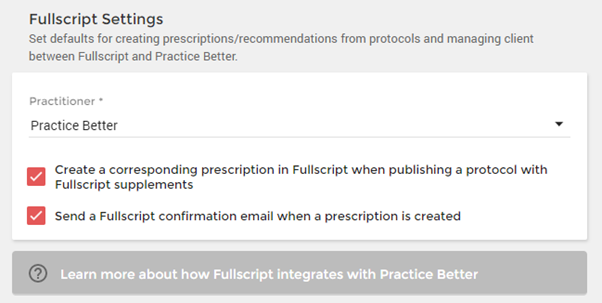 Click Connect.  
Making supplement recommendations using Fullscript
Create supplement recommendations in Protocol and Protocol Templates using Fullscript. This is done similarly to creating supplement recommendations using the Practice Better database.
First, from your Protocol or Protocol Template, go to the Fast action button at the bottom right-hand corner and click on Add supplement recommendation. If you've linked a Fullscript account to Practice Better, you will automatically be taken to the Fullscript supplement database (You can still access the Practice Better supplement database at any time by navigating to the Search Database tab to the left of Fullscrip Catalog).

Search a supplement or supplement brand by using the database Search bar or select a supplement brand from the list of available brands.
Once you've selected a supplement, you can complete the recommendation details. You will notice that there are a couple additional fields to complete when recommending supplements from the Fullscript database. These include Dose (serving and unit), Duration, Units, and an option to send reminders to refill supplement. Units allows you to define how many units of a particular supplement (e.g. 3 bottles) will be included in the final Fullscript prescription/recommendation.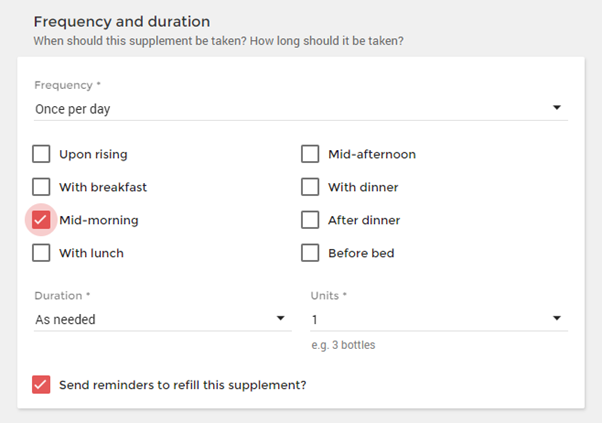 Once you've saved the details of this supplement recommendation, it will be displayed in the protocol summary page with a Fullscript badge.


Click Save and publish to share your protocol with your client. If you selected Create a Fullscript prescription once protocol is published, Practice Better will automatically generate the corresponding prescription in Fullscript so you don't have to do the work twice.
If you also selected to Send a Fullscript confirmation email when prescription is created, Fullscript will send an email to your client automatically so they can order their supplements right from their inbox. A link to order supplements is also included in the Practice Better "New Protocol Available" email for your client's reference.
Log into your Fullscript account if you need to make adjustments to the prescription generated from your protocol.
Client Notifications
When you publish a protocol with Fullscript supplements, your clients will receive two notifications:
Practice Better "New Protocol Available" email
Fullscript "Prescription Ready" email (optional, based on your settings)
The Practice Better email will include a link for clients to view their protocol in the Client Portal, and another link to go directly to Fullscript to order supplements.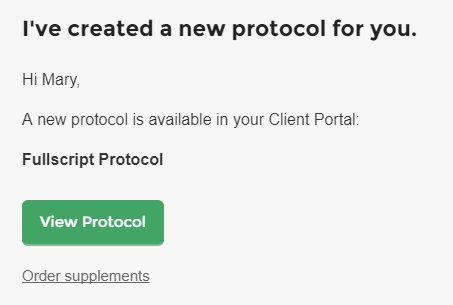 Clients will also be presented with a link to order supplements from their protocol in the Client Portal: