You can create and schedule messages to be sent at a later date for both one-on-one and group chats. This feature is available on our Plus and Team plans.
Scheduling Messages
1) Navigate to your Messages page by clicking the Chat icon in the top-right corner of your portal:

2) Select a chat and type your message into the textbox then click the Schedule icon:

3) Enter a date and time to send your message then click Schedule. Optionally, choose from a list of suggested times in the bottom-left corner of the popup.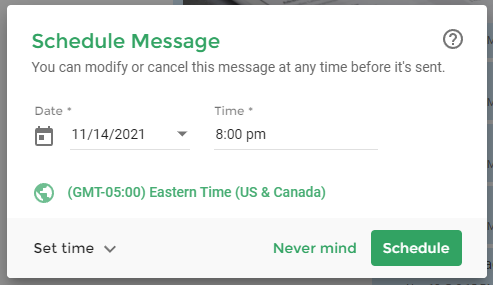 Managing Scheduled Messages
You'll notice a reminder about your scheduled message(s) just above the textbox in the chat. Click View scheduled messages to manage all scheduled messages:

You can also access scheduled messages by clicking on the notification bar under the Active Chats tab:

You can modify the content, reschedule or delete scheduled messages using the buttons to the right of each message on the Scheduled Messages page: