To switch an existing team member from an Admin User to a Practitioner, you will have to archive your team member and then re-invite them to join your team as a Practitioner.
When you archive a team member, you cannot re-invite them to join using the same email address. If your Admin User wants to continue using the same email address as before with their Practitioner account, they will need to first update that admin account email to a different email e.g. If the email they want to keep using is mary.smith@gmail.com, then they will need to change it to something like mary.smith+admin@gmail.com on the admin record. This would then allow you to re-invite mary.smith@gmail.com as a practitioner.
Step 1
Navigate to your Profile > My Team and click the 3 dots next to your Admin User > Archive.

Step 2
Click Invite people:

Select Practitioner, and once you enter in their details you can send them the invitation: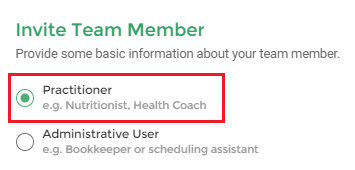 If the Invite people and/or Practitioner options are not available, this will indicate that you have reached the Practitioner limit for your plan. For more information on how to purchase our Practitioner add-ons, click here.