This article will walk you through Practice Better's Quiz feature. Quizzes are a great way to engage your program participants, help them retain important information, and assess their progress. You can create custom program quizzes that can be included in your program's content modules. This feature is available for users on the Plus plan and Team plan.
Creating Program Quizzes
1. Navigate to My Practice> My Programs, click on the Quizzes tab and click on the red Fast Action button to create a new quiz.

2. Enter your quiz's name in the Quiz name field and add any notes or instructions in the Description field.
3. From the Tool Bar on the right-hand side, select a quiz element to add to your quiz. 
Creating Quiz Questions and Answers
When you create a quiz, you will need to set a question and its correct answer. Clients will be able to view the correct answers and explanations (optional) once they have completed the quiz.
1. Select a question type and enter your question in the Title field. If you have any instructions or details for the question, add this to the Help text field.
2. Add the answer options that will be presented to your clients.
3. Set the correct answer(s) by clicking on the Correct answer dropdown. You can also add an answer explanation that will be displayed to your clients at the end of the quiz in the optional Explanation field.
Here's an example of a Checkbox question and answer.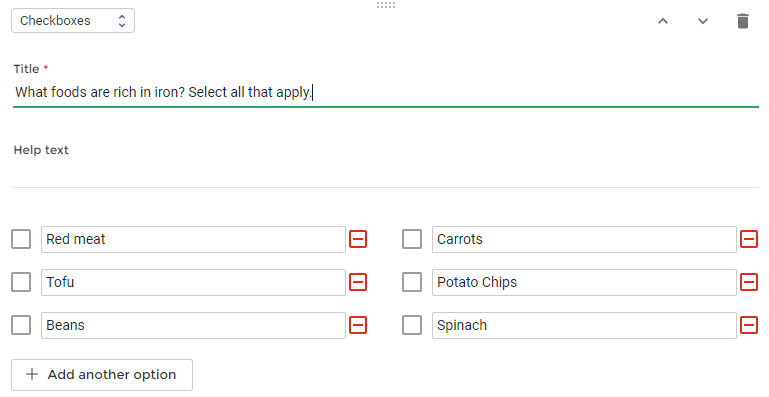 4. Repeat steps 1-3 until you've completed your Quiz and save your changes.
Previewing Your Quiz 
If you'd like to test your quiz from the client's perspective before linking it to a module, simply navigate to the Quizzes tab and click on the More Options button.
From here, select the Preview option, complete your quiz and click the Save & Submit button to see the result as your client would.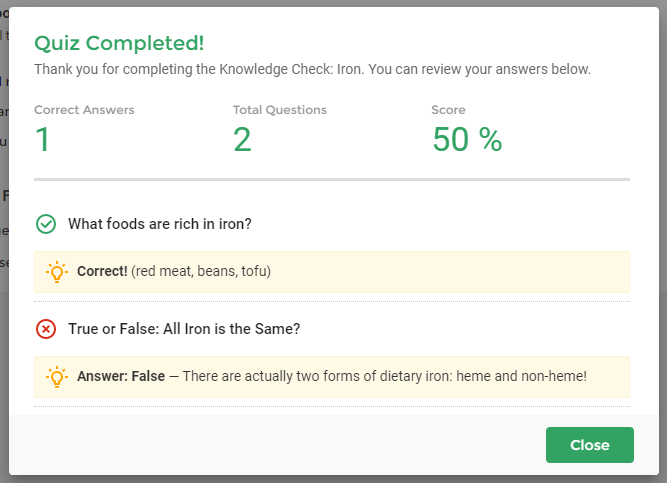 Linking Quizzes to Modules
Once you've created your quiz you can link them to your content modules.
1. Navigate to your program and click on the Manage button
2. Locate the module you would like to add your quiz to and click Edit.
3. Click on the Quiz tab and click on the Add quiz to complete.
4. Select your quiz from the Quiz dropdown. You can also require clients to submit their quiz before completing the module.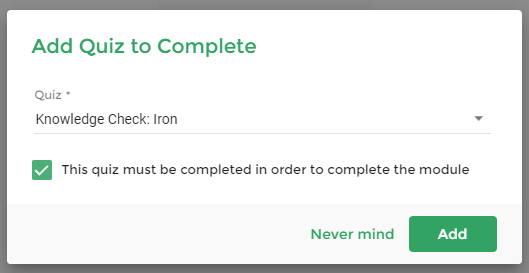 5. Save your changes.
Viewing Quiz Results
You can view quiz results for an individual client or for a group of clients in a few ways.
If you are looking for a specific client's results, navigate to your program's Enrollments page and click on View progress option and click on the View button next to the completed quiz.
Optionally, you can simply navigate to the Analysis section of your program and select the Module Resource Summary report. From there, locate the module, click on the Expand button and click on the Expand icon next to your quiz. This view will display all of your quiz results per client.


If you'd like to take a deeper look at your quiz results, you can click on the View response summary report button.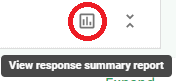 This will direct you to a report where you can view and analyze your quiz results.