You can organize your program content by creating sections and adding sub modules within them. Grouping modules within sections can help you break up your content into easily digestible portions and give your program a more professional look.
This article will walk you through organizing your content with sections and sub-modules.
How to Add a Section
1) Navigate to your program and click the red Fast Action button and click Add Section. (Or click Add section at the top right of the modules tab)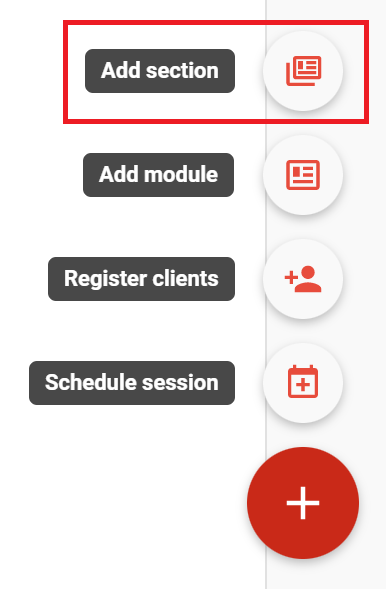 2) Add a section name and an optional description.
3) Click on the Add button to save your changes.
Creating Modules Within a Section
To add a new module within a section, follow the steps below:
1) Click on the Add module option in the associated section.

Optionally, you can click on the red Fast Action button and click on the Add module button.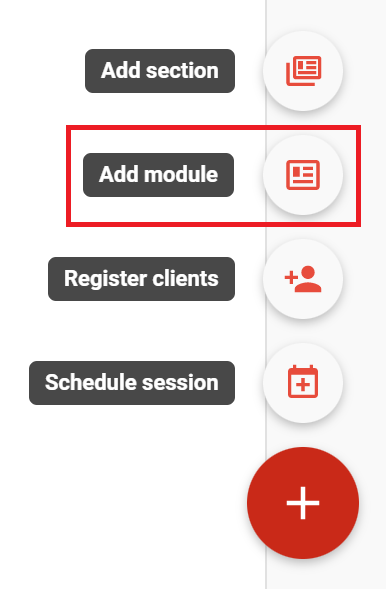 From there, select Create new for a brand new module or select a module from your list of module templates. Once you select your module type, you can choose which section you'd like to link your module to, in the Section dropdown:

Adding and Removing Modules from a Section
You can add/remove modules from sections in a few different ways.
1) Hover over the module's icon and press and move your module to the desired location

When a module will be placed in a section, you'll see the visual indicators to show which section and in what order the module will be placed. We'll highlight the section title as well as the section's submodules; the blue dotted lines will indicate where in the section your module is placed.

2) Click on the More Options button next to a module.

If your module is currently linked to a section, you'll see the option to Remove from section; if your module is not linked to a section, you'll see the option to Add to section.
3) Click on Edit next to your module and update your module's location with the Section dropdown. Once you select the desired section, click on Save changes.

Moving a Section with Modules
We've also made it easy for you to move sections that have modules in them. Simply hover over the section icon and press and move the entire section to your desired location.

The entire section will be selected and you will be able to move the entire section.